IDENTIFYING A GRAY SQUIRREL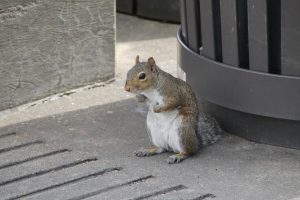 Boston is home to a great number of gray squirrels. These pests are notorious for being determined and crafty. Once they've decided to nest inside of your home, it can be difficult to permanently keep them out of your home. They have a tendency to find clever ways to return to your home even after they are removed from your house. Gray squirrels are very adaptive animals, and they can be very crafty.
Gray squirrels can gain access to your house through different entry points. For example, gray squirrels can get into your home through small gaps in your siding, roof damage, rotten soffits, and fascia boards. Sometimes these entry points are very small and secluded and it can be difficult to identify all of them.
Like many other squirrels, gray squirrels will seek protection from natural elements and predators. Your house is often the ideal source of shelter, as it is safe and secure (and the warmth of the central heating unit is tremendous during the colder season!). A pregnant squirrel will often find secluded areas in your attic or crawlspace to nest her young.
Although they may look incredibly cute and innocent, these pests can become a huge issue to the integrity of your structure.
To keep their front teeth length under control, squirrels needs to constantly chew on things. This means anything and everything they find in your house could be gnawed on. For example, gray squirrels will chew on books, boxes, electrical wires, wood furniture, plastics, siding, insulation and a lot more. Damages from gray squirrels sometimes can be identified by teeth marks in siding or wood items in your house. Gray squirrels can enlarge existing holes through chewing or create new holes.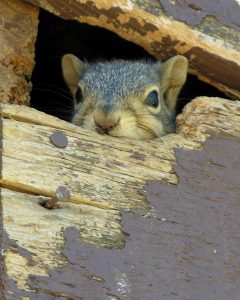 Homeowners should seek professional squirrel removal services. Critter Control provides the most effective and long-term solution to ensure that your squirrels are removed permanently, and you will never deal with another squirrel issue/infestation again. If you suspect that you may have a squirrel problem, please give us a call today.
Boston Squirrel Removal
Simply call Critter Control of Boston to take care of your squirrel problem. Our professional wildlife technicians have decades of experience in squirrel and wildlife removal. As a full-service company, we will help you identify your squirrel entry points, removal your squirrels, and provide an estimate for repairs.
Call Critter Control today to schedule your inspection or text us at 617-975-0440.
SURROUNDING SERVICE AREA PROVIDED BY CRITTER CONTROL OF BOSTON
Andover, North Andover, Arlington, Bedford, Belmont, Billerica, North Billerica, Boston, Brookline, Burlington, Cambridge, Chelmsford, North Chelmsford, Dorchester, Dracut, Everett, Jamaica Plain, Lexington, Lincoln, Lowell, Malden, Medford, Melrose, Newton, North Reading, Reading, Roslindale, Roxbury, Somerville, Stoneham, Tewksbury, Tyngsboro, Wakefield, Waltham, Watertown, West Roxbury, Weston, Wilmington, Winchester, Woburn.
This franchise is independently licensed and operated by Master Home Services, Inc. dba Critter Control of Boston