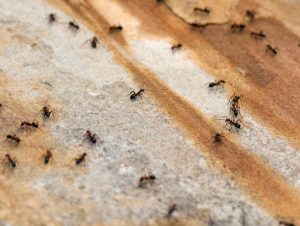 Ants are tiny pests that can become a big problem if they get in your Boston home or business. Fortunately, Critter Control® of Boston provides safe and effective ant removal services to residential homeowners and commercial business owners in the Greater Boston area.
Three Common Ant Species in Boston
The types of ants that regularly infest Boston area properties include:
Carpenter Ants
Odorous House Ants
Pavement Ants
The Risks of an Ant Infestation
Despite their small size, ants can pose a great threat to your Boston property. Some of the risks of an ant infestation are:
Ant Bites – Some species of ants bite, releasing a powerful toxin. These painful bites can cause severe allergic reactions with side effects including swelling, dizziness, and difficulty breathing.
Food Contamination – Ants enter your home to find a food source. When they're crawling around, these pests can bring in dirt and bacteria from outside that can contaminate your food.
Structural Damage – Carpenter ants burrow into wood to make their homes, which can potentially compromise the integrity of your home by weakening important wooden supports.
The longer you let an ant infestation grow, the more damage the pests can cause. Fortunately, Critter Control® of Boston is here to help.
Eco-Friendly and Effective Ant Control Services
Instead of spraying harsh chemicals on your Boston property, Critter Control® of Boston uses non-toxic pest control methods that are low-risk, low-impact, and eco-friendly. Our pest control treatments are targeted right at the source of the infestation, making them as safe as possible for you and your property. Our four-step method includes:
Inspection – We provide a thorough external and internal inspection of your home or business.
Removal – Using safe and non-invasive methods, we isolate and eliminate all invasive ants.
Prevention – All entry points are sealed around the home to keep ants out permanently.
Restoration – Property damage caused by the ants is cleaned and repaired.
Boston's Ant Control Experts
If you have an ant problem on your Greater Boston property and need to get rid of ants quickly, rely on the professional ant control experts at Critter Control® of Boston. Whether you have an existing pest problem or want to prevent one from ever starting, you can count on us for safe and effective services. To schedule an inspection for your home or business, call us today at 617-975-0440.