Raccoon Control Services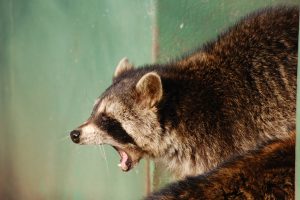 Raccoon habitats include nesting down in trees or logs during the day. In city areas, raccoon problems will occur in houses, abandoned infrastructure, attics, cellars, and chimneys. They prefer to nest in dark and secluded areas.
Raccoons don't typically get inside homes, but they will when they're looking for shelter or food. Raccoons will rifle through your trash, garden, and occasionally your home in search of food. As soon as they enter, raccoons cause significant damage that could potentially become very serious problems.
Wild raccoon mothers who are protecting their young can be uncharacteristically aggressive and dangerous if threatened. Raccoon handling protocol should be taken seriously. They are known to carry a variety of parasites and diseases that can be transmitted to both humans and pets.
Raccoon Control and Raccoon Removal Services
If you suspect your nuisance problem is a raccoon, or if you're seeing raccoons on your property, there's a good chance they're already comfortable around your home. Critter Control of Boston provides professional technicians that specialize in raccoon trapping and removal. We will assess the problem and take the necessary steps to not only remove any raccoons from your home but also repair any damaged areas and install prevention tools to prevent the possibility of raccoons from invading your property in the future.
Critter Control has professional wildlife management and raccoon removal solutions you need!
Critter Control of Greater Boston North Service Area
Critter Control of Greater Boston offers wildlife control services in the northern service area. Our northern service area consists of a few different locations, including:
Amesbury, Andover, North Andover, Avon, Braintree, Bedford, Beverly, Billerica, North Billerica, Boxford, Burlington, Byfield, Canton, Chelmsford, Danvers, Dracut, Dunstable, Georgetown, Groveland, Hathorne, Haverhill, Holbrook, Lawerence, Lowell, Lynnfield, Merrimac, Methuen, Middleton, Newburyport, North Reading, Norwood, Peabody, Quincy, Randolph, Reading, Rowley, Salem, Salisbury, Saugus, Sharon, Stoughton, Stoneham, Tewksbury, Topsfield, Tyngsboro, Wakefield, Weymouth, Wilmington, West Newbury, and Woburn.
Critter Control of Greater Boston Service Area
Allston, Arlington, Babson Park, Belmont, Brookline, Brighton, Cambridge, Charlestown, Chestnut Hill, Dedham, Dorchester, Everett, Hyde Park, Jamaica Plain, Lexington, Lincoln, Malden, Mattapan, Milton, Medford, Melrose, Mission Hill, Needham, Needham Heights, Newton, Roslindale, Roxbury, Somerville, South Boston, Waltham, Watertown, Wellesley, Wellesley Hills, West Roxbury, Weston, Westwood, and Winchester.
This franchise is independently licensed and operated by Master Home Services, Inc. dba Critter Control of Boston