Boston Bat Control & Bat Removal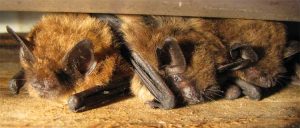 Critter Control of Boston offers full-service bat control to solve even the biggest bat control problem. Bats living in Boston area homes will leave large amounts of waste in the chimney or you may find bat waste in the attic. Droppings from bats are dangerous to human health and they can cause horrible smells in your home.
Keeping Bats Out
Your skilled technician will install one-way doors that allow bats to leave your home but will keep them out permanently so they can't get back in. One-way doors are a safe and humane way to get bats out of your home without harming them.
Bat Damage Repair
Damage done to your home by bats is typically related to the health hazards their accumulated droppings cause. Improper handling of hazardous materials like bat feces can cause devastating health issues.
Bat Prevention
Keeping bats out of your home is our main objective once the bats are removed. Your technician will install bat exclusion materials to keep bats out for good! Our prevention methods include chimney caps and screening, and vent screens.
Critter Control has the professional wildlife management solutions you need!
Critter Control of Greater Boston North Service Area
Critter Control of Greater Boston offers wildlife control services in the northern service area. Our northern service area consists of a few different locations, including:
Amesbury, Andover, North Andover, Bedford, Billerica, North Billerica, Boxford, Burlington, Byfield, Chelmsford, Danvers, Dracut, Dunstable, Georgetown, Groveland, Hathorne, Haverhill, Lawernce, Lowell, Lynnfield, Merrimac, Methuen, Middleton, Newburyport, North Reading, Peabody, Reading, Rowley, Salisbury, Saugus, Stoneham, Tewksbury, Topsfield, Tyngsboro, Wakefield, Wilmington, West Newbury, and Woburn.
Critter Control of Greater Boston Service Area
Allston, Arlington, Belmont, Boston, Brookline, Brighton, Cambridge, Charlestown, Chestnut Hill, Dedham, Dorchester, Everett, Hyde Park, Jamaica Plain, Lexington, Lincoln, Malden, Mattapan, Milton, Medford, Melrose, Mission Hill, Needham, Needham Heights, Newton, Roslindale, Roxbury, Somerville, South Boston, Waltham, Watertown, Wellesley, Wellesley Hills, West Roxbury, Weston, Westwood, and Winchester.