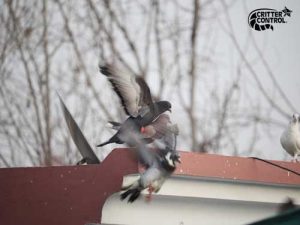 Having your Greater Boston area property overrun with invasive wildlife can be a nightmare to deal with on your own. Fortunately, you can rely on local animal control services to do the job for you. If you spot or encounter nuisance wildlife on your Sharon, MA residential or commercial property, then contact the licensed and experienced wildlife removal experts at Critter Control® of Sharon for efficient and effective wildlife removal services.
Know the Signs of an Infestation
Aside from spotting the creature itself, how do you know that you have a wild animal infestation on your property? Here are a few telltale signs of invasive wildlife that you should be aware of:
Strange noises, like scurrying and squeaking, particularly at night
Unidentifiable droppings in corners and along the floors of your property
Property damage, like scratched-up floorboards and drywall or chewed-through wires and pipes
Grease stains on your walls and ceilings
As soon as you notice signs of an infestation, call the expert Greater Boston area wildlife control experts at Critter Control® of Sharon.
7 Most Common Pests in Sharon, MA
Our wildlife technicians regularly receive calls to remove the following critters from properties in the Sharon, MA area.
Ants
The Dangers, Diseases, and Damages of Local Sharon Wildlife
If any of the above pests have infiltrated your property, it is important to be proactive about hiring our wildlife removal services. Not only do many wild animals have the ability to carry and spread dangerous diseases to you and your loved ones, but they can also cause significant damage to your property. In order to protect yourself from serious health issues and costly property damage, contact us today.
Expert Sharon Wildlife Control and Removal Services
When it comes to dealing with a wildlife infestation, the best most thing to do is rely on the expert wildlife removal technicians at Critter Control® of Sharon. Our tried and tested CritterSafe® removal methods guarantee fast, safe, and discreet removal of all unwanted pests.
At Critter Control® of Sharon, we will provide you with a quick and thorough property inspection followed by complete and humane wildlife removal. We will also take the extra step of securing your home or business with the protection it needs to avoid future wildlife issues and restore and clean any damage or contamination left behind by the infestation.
For more information on our Sharon wildlife control services or to schedule an inspection with one of our wildlife removal technicians, call us at 617-975-0440 today.