ABOUT RED SQUIRRELS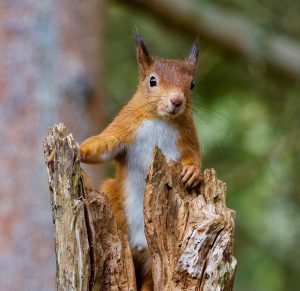 Red squirrels can be easily identified in comparison to other North American tree squirrels by their small size, territorial behavior and distinctive red tinted fur with a white underbelly. They are usually very loud and considered a nuisance due to their alarm calls, barking, chattering, and persistent clicking noises. They are sometimes referred to as "pine squirrels" or "chickarees" due to their need for coniferous forests with cone-bearing trees. Red squirrels are somewhat larger than chipmunks. They are small to medium-sized tree-climbing squirrels, where adults average between 10.5 and 15 inches long.
Red Squirrel Damage
Red squirrels, like other squirrels, can enter attics, crawl spaces, or sheds for nesting or shelter. They may damage the structure, pull apart insulation, or chew electrical wires. Nibbling, scratching, and pitter-pattering noises, in early morning or daylight hours, usually indicate the presence of a red squirrel. Balls of torn insulation, cardboard, and dried leaves and twigs may pinpoint nests, but nests and young may be totally concealed within eaves or wall spaces.
The second most common complaint about squirrels is that they often take food from bird feeders. They mainly subsist on grains, but since squirrels are adept climbers, they can reach almost any feeder. In addition, they frequently damage bird feeders when they enlarge openings by chewing on them or when they gnaw on perches.
Red squirrels in particular have a tendency to terrorize household animals.
RED SQUIRREL CONTROL & REMOVAL SERVICES
Keeping wild animals off your property can be a challenging task to do. Setting up traps can be tough if you aren't familiar with squirrel behaviors. It is illegal to use poisons to eliminate wildlife. Instead, you should contact Critter Control immediately. We will trap and remove your squirrels with safe and humane methods.
Without proper techniques, handling squirrels can be dangerous. These small critters can scratch or bite you if they sense danger; in addition, they might carry germs and diseases. Our experienced technicians will identify all possible entry points and barricade them.
Squirrels can be very insistent animals. They're territorial, and if you remove them, they'll try to get back to their nest under any circumstances. Therefore, squirrel prevention is one of the most important and effective squirrel control solutions.
Call Critter Control of Boston today to schedule your inspection or text us at 617-975-0440.
IS MY AREA COVERED BY CRITTER CONTROL OF GREATER BOSTON?
Serving Suffolk and Middlesex counties for over 12 years, Critter Control of Boston provides wildlife control for the following cities, as well as the surrounding areas:
Andover, North Andover, Arlington, Bedford, Belmont, Billerica, North Billerica, Boston, Brookline, Burlington, Cambridge, Chelmsford, North Chelmsford, Dorchester, Dracut, Everett, Jamaica Plain, Lexington, Lincoln, Lowell, Malden, Medford, Melrose, Newton, North Reading, Reading, Roslindale, Roxbury, Somerville, Stoneham, Tewksbury, Tyngsboro, Wakefield, Waltham, Watertown, West Roxbury, Weston, Wilmington, Winchester, Woburn.