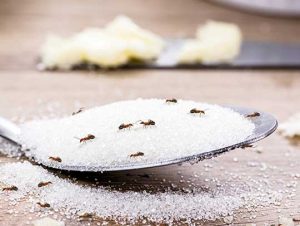 Ants are one of the most common pests found in Beverly, MA. While small, ants can be a large and aggressive nuisance to Greater Boston-area home and business owners. Instead of using home remedies and store-bought pesticides as ant control, rely on the expert technicians of Critter Control® of Boston to take care of your ant problem. Our team will use efficient and permanent pest control services to keep you and your property safe from invasive ants.
3 Common Types of Ants in Beverly, MA
Homes in the Northeast area can see ant infestations due to cold weather. Three of the most common ants found in Beverly are Carpenter, Pavement, and Odorous ants.
Carpenter Ants

Often mistaken for termites because they like to burrow holes into wood, carpenter ants can cause structural damage and bring down property values.

Odorous Ants

Given their name because of the odor released when crushed, odorous ants love high moisture areas. They are mostly seen in kitchens and under bathroom sinks.

Pavement Ants

These nuisance ants can be found walking in lines on sidewalks and indoors on their way to your kitchen pantry. Pavement ants build nests and mounds in protected areas of your property, like baseboards and in-between cracks in the concrete.
Dangers of Ants on Your Beverly Property
While ants may seem like a tiny problem that is fixed with store-bought remedies, these invasive critters are smart. Ants can even learn to navigate around most dangerous chemicals. Some dangerous facts of an ant infestation include:
Ant queens can lay up to 800 eggs in one day, quickly causing an infestation.
Ants are social and will often have satellite nests nearby. Therefore, killing one nest will not fix your ant control problem.
Ants will contaminate your food sources.
Our Four-Step, Professional Ant Control Methods
With more than 20 years of service, the professionals at Critter Control® of Boston use proven methods for ant control.
Inspection – Our experts start by inspecting your property to determine the size of the infestation. During this process potential entry points are identified inside and outside of your home.
Removal – After inspection, a plan is discussed to remove all ants quickly and effectively from your property.
Restoration – Next, our technicians will clean and repair any contamination or damage caused by the infestation.
Prevention– Finally, our team will install safeguards to protect your property from future ant invasions.
Professional Ant Removal and Prevention in Beverly, MA
Whether you have found one ant or a nest of ants, our experts at Critter Control® of Boston can help. Our experienced technicians will use low risk, low-impact pest prevention program to eliminate ants and protect against future pests attempting to invade your home. Treatments are both non-toxic and eco-friendly, providing a pest removal process that is safe for your family and pets.
To schedule an inspection and receive a free estimate for our ant control services, call us today at 617-975-044.