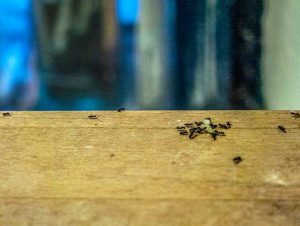 Ants are a big nuisance to deal with once they get inside your Wellesley, MA home or business. Instead of wasting time and money on temporary solutions, consider hiring the ant control specialists at Critter Control® of Boston to remove the ants from your Greater Boston area property safely and permanently.
3 Common Ant Species in Wellesley, MA
While there are 3,000 ant species in the United States, Boston is home to the following three ants:
Carpenter ants
Odorous ants
Pavement ants
The Risks of Nuisance Ants
Dealing with invasive ants in your home or business can be both a literal and figurative pain. Their small size allows them to penetrate the smallest of openings to access and spread through your interiors. Ants can also cause painful bites if you physically encounter them. Furthermore, if you're allergic to an ant's bite, you could suffer severe reactions like dizziness or trouble breathing.
Carpenter ants can cause structural damage to your property by chewing through wooden structures and creating tunnels in support beams. Ants can also contaminate the food in your kitchen by leaving dirt in the places they walk.
Our Effective Ant Control Process
The most effective way to get rid of ants in your Wellesley property is to rely on the ant control specialists at Critter Control® of Boston. We will remove the ants from your home safely and effectively by using our trusted pest control method. Our ant control experts use the following four-step process:
Inspection

Our ant control specialist will thoroughly examine your home to determine the size of your infestation.

Removal

We will remove all ants using environmentally friendly and non-toxic methods.

Prevention

Once the ants are gone, we will seal up entry points around your home to keep ants out.

Restoration

Our last step is to clean and repair any damage to your property caused by the ants.
Professional Ant Control Services in Wellesley, MA
Whether you have an existing ant infestation or want to prevent one from ever starting, you can rely on the ant control experts at Critter Control® of Boston to protect your Wellesley property. Our experienced pest control specialists will use safe and effective methods to permanently remove nuisance ants and pests from your home or business. Schedule a free inspection for your Wellesley, MA home or business today by calling us at 617-975-0440.