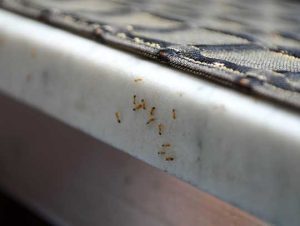 Ants are drawn to residential and commercial Weymouth properties in search of crumbs and moisture to supply their colonies. The pests can quickly spread through your property in a short period of time, causing structural damage and leaving contamination and painful bites in their wake. To get your Weymouth ant situation under control, rely on the efficient ant control services provided by Critter Control® of Boston.
Common Types of Ants in Boston

Different species of ants require different methods for removal. There are three main types of ants that reside in the Boston area. Here are the defining characteristics of each ant to determine which pest is infesting your home.
Carpenter Ants – These ants are often confused for termites since they chew through wood and make holes in walls.
Pavement Ants – These are the small ants you commonly will see on the pavement, hence their name. They can also build nests in your home and usually will congregate near toilets, bathtubs, basements, and attics.
Odorous House Ants – These ants are often found in high-moisture places such as kitchens and bathrooms. They are similar in size to pavement ants but usually hide in dark areas and produce a strong odor when crushed.
Effective Ant Control Methods

While many ant exterminators indiscriminately spray harsh chemicals during their pest control visit, such carelessness can lead to health risks for you, your family, and your pets. Furthermore, handling ants on your own can lead to painful and itchy bites that can be fatal to those with ant-related allergies. Though there are many DIY methods for ant removal, the most effective way to get rid of ants is to hire pest control professionals.
The non-toxic and eco-friendly ant control methods used by the licensed and trained professionals at Critter Control® of Boston ensure a safe and efficient ant removal process that includes inspection, removal, prevention, and restoration. Not only will we deter, eliminate, and remove all invasive ants, but we will also inspect your Boston property for other invasive pests and disinfect any areas contaminated by your infestation.
Professional Ant Control Services in Weymouth, MA
If your Weymouth property is overrun with nuisance ants, then rely on the professional ant control experts at Critter Control® of Boston. Whether you have an existing pest problem or want to prevent one from ever starting, you can count on us for safe and effective services. To schedule an inspection for your Weymouth, MA home or business and receive a free estimate for our ant control services, call us today at 617-975-0440.