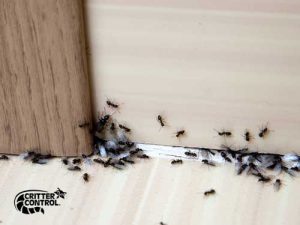 Whether it's a hot summer day or in the middle of the winter season, ants can be a problem for Greater Boston area residents at any time of the year. With their small size and military-like tenacity, ants can get inside, survive, and thrive in virtually any interior, especially if food is within reach.
If you notice signs of an ant infestation in your Needham, MA residence or business, don't delay in calling the pest control experts of Critter Control® of Needham for fast and efficient ant control services before a small inconvenience becomes a huge problem.
4 Needham Prevention Tips
Not unlike larger and furrier pests, ants are always looking for food and shelter. However, like other insects, they are also attracted to moisture. Here are four tips to help prevent the spread of ants into your Needham home:
Check for leaks and other water sources. Have your plumbing checked semi-regularly to ensure there are no leaks or pooling water that could attract and sustain ants. Repair any leaks and dehumidify any problem areas as soon as they are identified.
Restrict access to your food sources. Ants are very food driven, so always clean up food or juice spills and crumbs, tightly secure your indoor and outdoor trash, and vacuum regularly to keep from attracting ants.
Seal all possible entry points. As mentioned previously, ants can get into nearly any space given their size. Accessible cracks can be very common around your doors and window frames, so try to seal or caulk any possible cracks that ants can get through.
Call our professional pest control technicians. When it comes to eliminating ants, no pest control company has the skill and knowledge of Critter Control® of Needham. With years of experience in ant control, our expert pest and wildlife control technicians use the most effective and safe methods to safeguard your home and family from dangerous and disruptive infestations.
Fast and Effective Needham, MA Ant Control Services
If your Needham, MA property is overrun with ants, do not try to tackle the pest issue on your own. Instead, rely on the professional ant control services offered by the expert pest control technicians at Critter Control® of Needham. Our team of experienced pest control professionals will quickly and safely remove nuisance ants from your Greater Boston area property using non-invasive, non-toxic, and eco-friendly methods that keep them from returning.
To schedule your inspection and receive a free estimate for our ant control services, call Critter Control® of Needham at 617-975-0440 today.