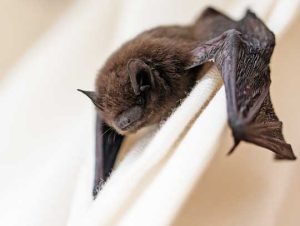 Northern Massachusetts is home to an abundance of wildlife, including bats. Bats may be small, but they can cause a lot of problems if they decide to live in your attic. However, it is tricky to remove bats since they are a protected species that can only be relocated by experts during certain times of the year. Fortunately, the bat removal experts at Critter Control® of Boston are here to help.
Common Signs of Bats
Bats can hide on your property for a while since the small, nocturnal critters are usually only active at night. However, there are some signs you can look for that can give their presence away, including:
Scratching, fluttering, and screeching noises from your attic or walls, especially at night
Dark, greasy stains around your attic or entrance points
A strong ammonia smell or signs of bat droppings
As soon as you notice any of these signs, call Critter Control® of Boston right away to get the removal process started.
Dangers of Bats
Bats can cause a lot of damage if they're not taken care of quickly. Below are some of the risks bats pose to you and your property.
Structural damage

When nesting, bats can cause holes in your roof and nest on top of insulation or electrical wires. Your home's integrity could be threatened the longer they stay.

Parasites

Bat droppings can carry bacteria, fleas, and ticks that can be passed on to you, your family, and pets.

Disease

Bats are known carriers of rabies, and they'll bite if they feel threatened. Additionally, their toxic droppings, or guano, can cause histoplasmosis, a dangerous respiratory disease.
Safe Beverly, MA Bat Removal Services
Bats must be handled with extra care due to their protected legal status. Fortunately, the experts at Critter Control® of Boston use a four-step method that is low-risk, low-impact, and eco-friendly. Our process includes:
Inspection
Removal
Exclusion
Restoration
If your Beverly, MA property is infested with nuisance bats or you want to prevent future pest control incidents, rely on the experts at Critter Control® of Boston. To schedule an inspection for your Beverly, MA home or business and receive a free bat removal estimate, call us today at 617-975-0440.