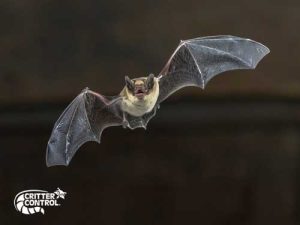 With its proximity to Cutler Park Reservation, Needham, MA is primed for nuisance wildlife to crawl, slither, or fly their way into its residential and commercial areas. Bats, in particular, are always in search of food and shelter under the cover of night, and your Needham home or business is as susceptible to an unwelcome bat invasion just as any nearby cave or tree.
Bats are also known carriers of viruses and diseases and are capable of scratching and biting if threatened; therefore, it's important that you contact the bat removal experts at Critter Control® of Needham as soon as you encounter a bat or recognize the signs of a bat infestation on your Needham property.
3 Signs of Bat Infestation in Needham, MA
Bats are quick and nocturnal, so they can sometimes be tricky to spot. If you suspect bats are living on your Needham property, then you should look out for:
Faint squealing or screeching – Bats let out distinctive noises, somewhere between a squeal and a screech. You'll be able to hear them as they fly around using their echolocation to catch their meals.
Bat droppings – Bat feces, or guano, may be littered around your Needham residential or business property. Bat droppings are toxic, foul-smelling, and have a dusty quality to them.
Bats flying around your property – Bats like to flutter around at dawn and dusk to hunt for food, like flying insects. To confirm a bat infestation, bring a flashlight to see if you can catch a glimpse of their distinct flight patterns.
Safe and Legal Bat Removal Services
Many bats are protected by law, and the regulations surrounding their relocation are quite rigid and come with steep penalties if broken. As such, you should not attempt bat removal on your own. Instead, trust the wildlife experts at Critter Control® of Needham to resolve your bat issue. With decades of experience, our wildlife experts are trained in the safest and most humane bat exclusion methods possible. Our four-step, CritterSafe process includes:
Inspection – Our licensed professionals conduct a thorough inspection to determine the invasive bat's species and the severity of your infestation.
Exclusion – With the proper equipment and legal methods, our technicians will safely install bat exclusion devices on your Needham, MA residential or business property.
Prevention – Once all nuisance bats are gone we will seal all possible re-entry points to guarantee permanent removal.
Restoration – After excluding all bats, our team will clean up and repair any contamination or damage they left behind.
Expert Bat Removal in Needham, MA
If your property in the Greater Boston area is overrun with invasive wildlife, such as bats, then you should rely on the professional animal removal experts at Critter Control® of Needham. Our team of professionals is dedicated to providing safe, efficient, and thorough bat removal services. Not only will we tackle your issue as quickly as possible, but we will also set you up with extra protection in order to minimize the possibility of future infestations on your property.
Whether you have an existing pest problem or want to prevent one from ever starting, you can count on us for humane and effective services. To schedule an inspection for your home or business and receive a free estimate for our bat removal services, call us today at 617-975-0440.