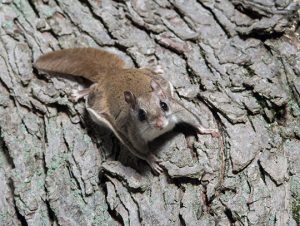 From the ground, a flying squirrel looks like a regular squirrel, until it suddenly spreads its arms and glides from limb to limb. While flying squirrels are incredibly fascinating creatures to see in the wild, you do not want them on your Greater Boston area property for a number of reasons. Mainly, flying squirrel urine carries dangerous bacteria that can both damage your property and be detrimental to the health of you and your family.
Therefore, if you have spotted the winged rodents around your home, here is what you can do to get rid of flying squirrels.
Flying Squirrel Removal Tips
There are many different household items you can use to potentially repel invasive flying squirrels. The pungent odor produced by mothballs is often effective at deterring squirrels away. If you have mothballs on hand, simply place them where you have noticed flying squirrel activity. Continue to monitor the area to see if the mothballs have any effect on your flying squirrel problem.
Try Flying Squirrel Traps
If they are becoming a destructive nuisance, you can try trapping the flying squirrels. Flying squirrel traps can easily be purchased at your local hardware store. However, keep in mind that it is always risky to come into close contact with a wild animal if you do not have the proper protective gear. Furthermore, amateur trap setting can result in injury to yourself and the animal, so it's best to leave live animal capture to wildlife removal professionals.
Call Flying Squirrel Removal Experts
At the end of the day, the only surefire way to ensure that your flying squirrel issue is taken care of for good is to rely on licensed flying squirrel removal services. If your Greater Boston area property is overrun with flying squirrels, contact Critter Control® of Boston to get rid of them.
Get Rid of Flying Squirrels with Critter Control® of Boston
The squirrel removal professionals at Critter Control® of Boston are dedicated to serving residents and business owners in the Greater Boston area with efficient and effective flying squirrel removal services.
All of our wildlife removal services include a four-step CritterSafe® that involves a thorough inspection of your property, completely humane critter removal, disinfection services to contaminated areas, and the implementation of preventative measures to ensure your flying squirrel issue does not return.
For more information on our flying squirrel removal services or to schedule an inspection of your home or business, call Critter Control® of Boston at 617-975-0440 today.