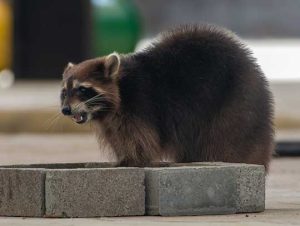 Raccoons are versatile creatures that are always in search of food and shelter. The critters thrive in both the countryside and in cities, meaning that Sharon, MA property owners are likely familiar with the mischievous creatures. If you ever find that your Sharon, MA  home or business is overrun with nuisance raccoons, it is important to act quickly by calling one of the raccoon removal experts at Critter Control® of Boston for help.
The Dangers of Invasive Raccoons
It is important to respond quickly to a raccoon infestation because raccoons are known to cause significant damage to commercial and residential properties. For example, raccoons will rummage through your trash and throw debris all over your property. They can dig up your home garden and leave you with destroyed vegetables and herbs. They may even shred your window screens in an attempt to get inside of your home or business.
The more time you give raccoons to nest on your property, the more damage they can inflict. Therefore, it is vital that the second you see signs of a raccoon infestation, you enlist the professional raccoon removal services provided by the experts at Critter Control® of Boston.
Safe and Effective Raccoon Removal Methods
At Critter Control® of Boston, we only use safe and effective raccoon methods to deter raccoons away from your Sharon, MA property. Our thorough raccoon removal services consist of the following four steps:
Inspection – First, we conduct a complete inspection of your property to locate the raccoons and any entrances they may have used to get inside.
Removal – Next, we safely and humanely remove all raccoons from your property.
Restoration – Then, we sanitize any areas of your property where raccoon activity was present.
Prevention – Finally, we implement preventative measures to ensure the raccoons cannot
If your Sharon, MA property is in desperate need of raccoon removal services, call the professional wildlife removal technicians at Critter Control® of Boston.
Professional Raccoon Removal Services in Sharon, MA
At Critter Control® of Boston, we are dedicated to providing Sharon home and business owners with expert raccoon prevention and removal services that are always safe, effective, and humane.
To schedule an inspection of your Sharon, MA property and receive a free raccoon removal estimate, call Critter Control® of Boston today at 617-975-0440.