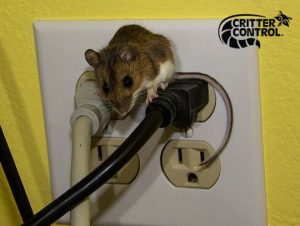 Mice are constantly searching for places to nest. Some of the driving factors that attract mice to residential homes and commercial businesses are sheltered from the elements and direct access to food and water sources. In the Greater Boston area, every home and business owner should be aware of the potential causes and signs of these nuisance rodent infestations and the mice removal techniques exterminators use to get rid of mice on your property.
How Exterminators Get Rid of Mice
Professional mice exterminators use several methods to identify, remove, and prevent mice from nesting in and around your property. These methods include:
Inspecting the infested area.

One of the first tasks a professional will perform is a home inspection. Mice are flexible critters that can sneak into your home through small holes in and around your property. A qualified exterminator will take a thorough look at all external and internal access points to identify how mice have entered your property. This will go a long way in determining the size of your mice problem and help the exterminator strategize the removal process and where to place preventative measures.

Sealing off potential entry points.

After identifying the entry points, the next step is sealing off these areas to stop rodents from entering your property. Common sealing methods include using silicone caulk or spray foam.

Setting up traps.

After the experts have inspected the property and identified the problem, the next step in the mice removal process is setting up traps or applying other methods such as non-toxic, eco-friendly sprays to eliminate the infestation.

Restoring your property.

After all unwanted mice are safely removed, a reliable exterminator will sanitize any contaminated areas or surfaces, clean up remaining mouse waste, and repair any damage left behind by the infestation.
Dangers of a Mouse Infestation
Having nuisance mice invade your Greater Boston area home can cause multiple issues for you and your family. Potential threats include:
Widespread infestation.

Once inside your property, mice will quickly set up nests and breed. Their breeding period is as short as 20 days and can produce a litter of 3-14 babies.

Serious health issues for your family and pets.

Mice are notorious for carrying diseases that can harm humans and other animals. In fact, mice can spread over 35 diseases through direct contact (bites and scratches) or indirectly through contaminated waste or bites from mites, ticks, and parasites that have fed on infected mice.

Damage to your home.

Mice love to chew on structures, especially wood and wires. Their gnawing will cause damage to your property, lead to fire hazards, and can create entries for other nuisance pests to enter your home.
Expert Boston Area Mice Removal Services
Mice removal may seem like a simple task; however, it should only be performed by experienced and equipped wildlife removal professionals. If you have or suspect a mice infestation in your Greater Boston area home, rely on the experts at Critter Control® of Boston. Our team of licensed and trained technicians use safe and humane methods to remove mice from your home and set up safeguards to help fight against future infestations. To schedule a consultation and receive a free mice removal estimate, call or text Critter Control® of Boston today at 617-975-0440.