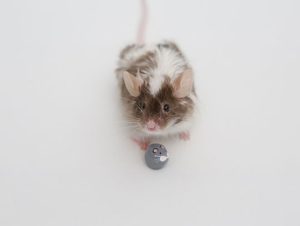 Mice are drawn to residential and commercial properties that provide easy access to food, shelter, and water, making your Beverly, MA home or business their ideal nesting area. Don't wait for a mouse problem to get out of control. If you have seen mice or suspect you have a mouse in the house, call the experts at Critter Control® of Boston to help. Our expertly trained wildlife technicians will keep you and your Beverly, MA property safe by quickly and permanently removing all invasive mice.
4 Common Signs That You Have Mice
Mice are small, sneaky critters that can invade homes unnoticed. Here are common signs that you have mice on your property.
Mice Droppings

Mice will leave droppings around your Beverly, MA, home or business. It's common to find these droppings in or around kitchens or areas that store food.

Gnaw Marks

Mice love to chew on wood, food packaging, and other items around your property. If you spot gnaw or scratch marks on walls or floors, then you may have a mice issue.

Strange Noises

Mice tend to nest and scurry around inside walls or in dark attic spaces. You likely have mice if you hear scratching, crawling, or running noises, especially at night.

Damage to Food Packaging

Mice are attracted to foods like cereal, grains, and nuts and will try to break into locations that store these food items. If you notice damage to food packaging, boxes, or small containers in your pantry, then mice are the likely culprit.
Our Effective, Four-Step Mice Removal Plan
The experts at Critter Control® of Boston use eco-friendly and humane methods to remove mice from your property. We utilize a proven four-step removal process to ensure that we get rid of all unwanted mice and prevent future pests from entering your home or business. Our mice removal methods include:
Inspection

Before the removal process can begin, our trained technicians will inspect the interior and exterior of your property to locate the mice and develop the best plan to remove the pests from your property.

Removal

Now that a plan is in place, safe and humane methods will be taken to remove all mice from your property permanently.

Restoration

After ridding your home or business of mice, our team will repair and restore any areas damaged by the infestation. Restoration includes cleaning out mice nests, repairing damage to insulation, and decontaminating any messes caused by the mice.

Prevention

We will seal up all potential entry points to lower the chances of another mice invasion.
Professional Mice Removal Services in Beverly, MA
Mice are agile and destructive rodents that can spread diseases to you and your family. If your property in the Greater Boston area is overrun with invasive mice, call in the experts at Critter Control® of Boston to remove them. Our technicians are licensed, trained, and equipped to remove mice and other wildlife safely and humanely from your Beverly, MA, property. To schedule an inspection, call us today at 617-975-0440.