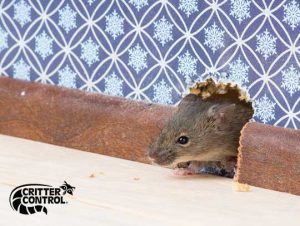 Waking up in the middle of the night from the unexpected squeaking sounds of mice in your attic can be the beginning of a living nightmare. Unfortunately, mice infestations are all too common in the Greater Boston area. Not only are mice known to cause serious damages to the infrastructure of Milton, MA homes and businesses, but they can also potentially spread dangerous diseases like hantavirus and rat-bite fever to you and your family.
However, just because an infestation is happening on your property does not mean that you have to deal with it by yourself. For all of your pest control needs, call Critter Control® of Milton for safe, swift, and humane mice removal services.
How Mice Enter Your Milton, MA Home
Mice are experts at finding small entrances that you may not even notice. The most common access points mice use to enter Milton properties include:
Gaps in your sliding
Holes in your fascia boards
Rotten soffits
Torn shingles
Uncapped chimneys
The mice removal experts at Critter Control® of Milton are experienced in finding these small entrances, so they will know exactly what to look for during the initial inspection of your home.
CritterSafe® Mice Removal Method
At Critter Control® of Milton, we have been serving the residents and business owners of Milton for decades using our four-step CritterSafe® wildlife removal methods. Our process is efficient, effective, and entirely humane to the nuisance animal. Our steps include:
Inspection – First, we evaluate the extent of your problem by searching your home for mice, signs of an infestation, and the entry points they may have used.
Removal – After a thorough inspection, we will use our techniques to isolate the pests and carry out a safe and efficient removal.
Repair – Following removal, we will repair any of the damages that the creatures may have caused and clean any contaminated areas.
Exclusion – Finally, we will seal all access points to ensure that you don't have another infestation anytime soon.
Our methods are customized to best suit your property and your specific needs so that we can ensure the most effective removal possible.
Your Milton, MA Mice Removal Experts
If you're in need of mice removal services in Milton, MA, rely on the mice removal experts at Critter Control® of Milton. Our wildlife removal specialists have the experience and expertise needed to permanently solve your existing mouse problem. To schedule an inspection of your Milton property, call us at 617-975-0440 today.