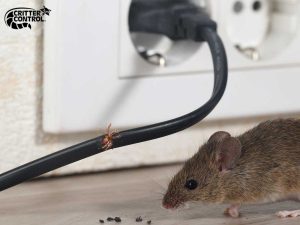 House mice are one the most common nuisance pests in the world, next to rats. If you notice small droppings, chew marks, or squeaking noises throughout your Needham property, then these rodents are the likely culprit. However, mice reproduce very quickly, so the presence of a single mouse must be addressed quickly before it can grow into an uncontrollable infestation.
To keep your property and its inhabitants safe from mice contamination, it is important to contact Critter Control® of Needham as soon as you see or discover signs of mice in your Greater Boston area property.
Common Property Damage Caused by Mice
Although they might not seem as unpleasant as rats, mice pose a similar danger to Needham homes and businesses. On top of being a health hazard, mice can cause significant property damage due to their tendency to chew on anything in their path. From drywall and wood beams to furniture and insulation, mice will gnaw and burrow into materials in order to build their nests. Their constant chewing habits can also fray exposed wires or underground electrical lines and cause infrastructure damage, fire hazards, and expensive repairs.
Health Threats of a Mice Infestation
Mice do not have a reputation for being aggressive, but these rodents will surely go on the offensive when feeling threatened. If you suffer a bite or scratch from a mouse, the physical pain will be the least of your worries. Mice can infect you with various diseases through bites, scratches, or by contaminating your food with their droppings. Some of the dangerous diseases mice can transmit include:
Hantavirus
Bubonic Plague (black plague)
Rat-bite Fever (RBF)
Salmonella
Mice are simply a threat to the safety of your household. Once you see one of these rodents in your Needham property, play it safe and contact Critter Control® of Needham for complete mice removal.
Rely on Critter Control® of Needham for Effective Mice Removal
Time is of the essence when it comes to preventing the spread of a mouse infestation. The faster you contact Critter Control® of Needham, the faster our certified mice removal experts can put an end to your rodent problem. Through our efficient, eco-friendly, four-step CritterSafe® process, our trained specialists will provide you with a personalized mice removal plan that includes inspection, removal, prevention, and restoration. Once our team is done, your Needham property will be mice-proof for years to come.
To schedule an appointment and receive a free estimate for our mice removal services, call Critter Control® of Needham today at 617-975-0440.