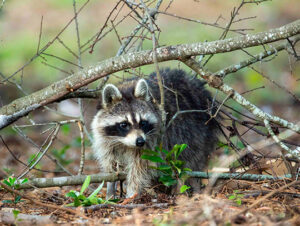 Raccoons are great at adapting to their surroundings. While the critters naturally reside in the wooded areas surrounding Greater Boston, they can thrive in cities like Andover, meaning no property is safe from a potential raccoon infestation. If nuisance raccoons have infested your Andover property, contact the wildlife experts at Critter Control® of Boston for fast and effective raccoon removal services.
The Dangers of a Raccoon Infestation
Raccoons are also known for causing significant damage to residential properties while in search of food. For example, raccoons regularly ransack outdoor garbage cans, scatter trash all over yards, trample gardens, and shred window screens in their attempt to find food. Their messy and disturbing behavior can be both costly and unpleasant; however, it is important to resist approaching or attempting to trap a wild raccoon.
Raccoons will do what they can to avoid close contact with humans; however, if cornered or threatened, they can become agitated and attack. This can be dangerous because raccoons can carry several different diseases that can be transmitted to humans through bites and scratches and their saliva, including rabies.
Therefore, if you encounter a raccoon on your property, do not approach it. Instead of putting yourself in danger, call the raccoon removal experts at Critter Control® of Boston.
Our Effective Raccoon Removal Method
At Critter Control® of Boston, our raccoon removal experts are equipped to perform safe and humane raccoon removal services based on our proven CritterSafe® method, which consists of the four following steps:
Inspection – We conduct a thorough inspection of your Andover property to locate the pests.
Removal – We safely remove all raccoons using non-toxic, eco-friendly, and humane methods.
Restoration – We disinfect and repair any areas of your property damaged by the infestation.
Prevention – We implement preventative measures to ensure raccoons and other pests are deterred away from your property.
Raccoon Removal Experts in Andover, MA
If you're in need of professional raccoon removal services in the Andover area, call Critter Control® of Boston. Whether you have an existing raccoon problem or want to prevent one from developing, our raccoon removal experts can help. To schedule an inspection of your Andover property and receive a free estimate for our raccoon removal services, call Critter Control® of Boston today at 617-975-0440.