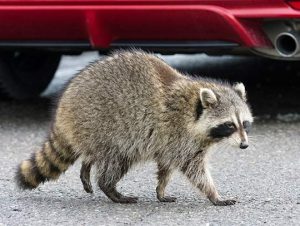 Raccoons are often known to wander into residential and commercial properties in search of food, water, or shelter. While these creatures may seem innocent and harmless but, in reality, they can be incredibly destructive to your Greater Boston area property and should be removed and relocated as quickly as possible.
If you have a raccoon problem on your Georgetown, MA property, Critter Control® of Boston can help with expert raccoon removal services.
The Most Common Signs of a Raccoon Problem
Most raccoons seek residential and commercial properties for nourishment and shelter in similar ways. Often, they leave behind signs of their hunt, such as:
Disturbed Trash

Your garbage can or commercial dumpster is one of the first places a raccoon will search for food. Getting into your garbage can be easy for the critters if your trash can lacks a tightly sealed and lockable lid. If not, you may wake to find your trashcan flipped over and trash littered across your yard.

Strange Noises

When nocturnal raccoons invade the attic and walls of your property, they will make disturbing scratching and squeaking sounds at all hours of the night.

Shallow Holes in Your Garden

Raccoons aren't known for digging tunnels like burrowing pests, but they will dig shallow holes to steal vegetables from your garden. Finding shallow holes is a good indicator that you're dealing with a raccoon and not a mole, armadillo, or gopher.

Droppings Near Openings

If raccoons are eating, then they are also leaving droppings behind. Typically, you'll find raccoon droppings near attic openings or outside near the bases of trees.
Safe and Effective Raccoon Removal Services
If you're looking for safe and effective raccoon removal services in the Georgetown area, Critter Control® of Boston can help. At Critter Control® of Boston, our raccoon removal experts have the equipment and expertise needed to conduct professional raccoon removal services.
While each infestation is different, our licensed and trained technicians typically follow a four step process when removing nuisance wildlife, which includes: a thorough inspection of your property, safe and humane raccoon removal, disinfection and restoration of contaminated or damaged areas of your property, and the implementation of preventative measures to ensure invasive raccoons do not return.
Professional Raccoon Removal Services in Georgetown, MA
When your Georgetown, MA property is facing a serious raccoon issue, rely on the raccoon removal experts at Critter Control® of Boston to handle it safely and effectively. To schedule an inspection of your Georgetown property and receive a free raccoon removal estimate, call Critter Control® of Boston today at 617-975-0440.