Dealing with a raccoon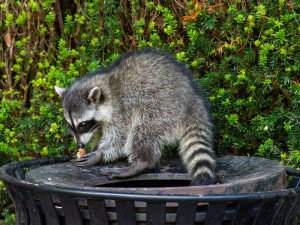 infestation can be both inconvenient and dangerous. The pests can invade your space, eat your food, and become a threat to you and your pets. Addressing a raccoon infestation quickly is important to prevent further costly damages to your Milton, MA property. Here are some of the signs and dangers of a raccoon infestation and ways Critter Control® of Boston can help resolve your raccoon problem as soon as possible.
6 Signs of a Raccoon Infestation
Keeping an eye out for signs of raccoons is key to stop the problem before it worsens. The following issues are all signs that raccoons have invaded your home and property:
Knocked over trash cans
Damaged screen doors
Shredded fabrics
Trampled gardens
Strange pawprints
Moved or empty pet food bowls
Dangers of a Raccoon Infestation
While raccoons may look small and cute, they pose a large threat to residential homes and their owners.
Raccoon mothers, when agitated or in danger, will become aggressive and can attack you or your pets.
Raccoons carry all sorts of parasites and diseases that can spread to humans and pets.
Raccoons have a destructive nature. When searching for food, they will ransack and ruin your home and belongings.
It is essential to remove raccoons as soon as their activity is noticed. Not only will they damage your home and property, but they can be dangerous to you and your pets. Therefore, contacting a reliable raccoon removal service is crucial, as attempting to handle these wild animals on your own can cause you harm.
Expert Milton, MA Raccoon Removal Services
At Critter Control® of Boston, we remove raccoons in the safest and most effective manner. Using our four step Crittersafe® method of inspection, removal, restoration, and prevention, we will quickly locate and resolve your raccoon problem and prevent it from occurring again. We will also make sure to repair any damages caused by the raccoons.
To schedule an inspection of your Milton, MA property and receive a free estimate for our raccoon removal services, give us a call today at 617-975-0440.