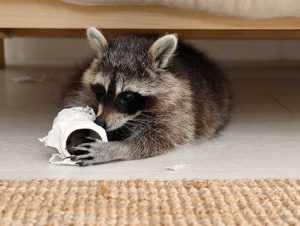 Raccoons often wander into populated areas, searching for food, shelter, and water. A raccoon's dexterity and cunning survival skills can quickly make them a nuisance to your Salem, MA property. As with any wild animal, there are multiple dangers associated with approaching a raccoon on your own.
Therefore, if you see or suspect any signs of a raccoon on your property, rely on the wildlife removal experts at Critter Control® of Boston to provide safe and effective raccoon removal services.
Dangers of DIY Raccoon Removal
While it may be tempting to approach or try to remove these nuisance critters yourself, you are putting your family and home at risk in doing so. Common dangers caused by nuisance raccoons include:
Damage to your property

Raccoons will damage your belongings with their claws and teeth. Lookout for shredded fabrics, screens, and insulation, footprints on cars and in flower beds, claw marks on your walls, and gnaw marks around your property.

Health and Safety Risks

According to the CDC, raccoons are one of the largest carriers of rabies in the U.S. and the east coast has a higher number or raccoons infected with the disease. The mischievous mammals can also carry diseases and infected parasites that can transmit illness to humans and pets through direct and indirect contact.
Our Proven, Four-Step Raccoon Removal Method
The expert technicians at Critter Control® of Boston use humane and safe methods to remove nuisance wildlife from your Salem, MA home. The process includes:
Inspection

Firstly, our team of raccoon removal specialists will inspect the area outside and inside of your home. The goal is to identify where the raccoons are located and how they are breaking into your property.

Removal

Our expertly trained staff will use humane and eco-friendly methods to locate and trap the raccoons before safely transporting them off your property.

Restoration

Next, we will repair and clean any areas affected by the infestation.

Prevention

After restoring your property to a pre-raccoon state, our technicians will install safeguards to prevent racoons from returning to your home.
Professional Raccoon Removal Services in Salem, MA
Raccoons are crafty critters that search for shelter and food throughout the night. If you see or suspect that a raccoon is taking up residence on your property, call on the experts at Critter Control® of Boston to keep you safe.
To schedule an inspection for your Salem home or business and receive a free estimate for our raccoon removal services, call us today at 617-975-0440.