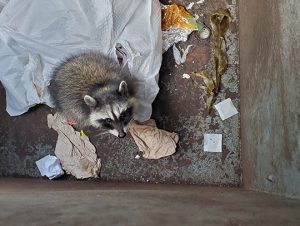 Raccoons can be everywhere, from the garbage dumps in Beantown to the backyard of your very own home. Whether the mischievous pests are outside or inside your Westwood, MA property, the wildlife professionals at Critter Control® of Boston can be counted on to deliver safe and effective raccoon removal services to keep raccoons out for good.
Signs of a Raccoon Problem
Raccoons can be cute, but they can be destructive little critters when hungry. They'll do anything to get to their grub, and this often involves destroying parts of your property. Here are a few warning signs of a raccoon infestation.
Disturbed trash cans

If you find your trash can or recycling bin knocked to the ground and all of its contents scattered around your yard come garbage day, this is a sign that nuisance raccoons have been rummaging outside your property.

Destroyed gardens

Raccoons are omnivores, so they will most certainly make their way to your garden and snack on any fruits or vegetables you may be growing. They'll also leave a trail of small footprints and droppings while they're at it. If you find missing, bitten, or dead crops around your property, raccoons have likely been infesting it.

Property damage

Unexpected rips and tears in welcome mats, window screens, siding, and roofing are another heavy indicator that ravenous raccoons are itching to get inside your home or building to access your food and shelter.
The Dangers of DIY Raccoon Removal
Raccoons are known carriers of rabies as well as other diseases and parasites. Additionally, they can become violent and attack when feeling threatened, which is why any attempt at raccoon removal should be left to the professionals. Fortunately, the experienced raccoon removal experts at Critter Control® of Boston are ready and able to permanently remove nuisance raccoons from your Westwood property.
Safe and Effective Raccoon Removal Services in Westwood
The wildlife experts at Critter Control® of Boston have handled raccoon infestations in and around Westwood, MA and the Greater Boston area for 40 years. Our licensed and trained technicians will first inspect your property to locate the pests and determine the extent of their infestation, then we will humanely remove and relocate the unwelcome creatures from your property and repair any damages they may have caused. Finally we will safeguard your property by sealing entry points to prevent raccoons from returning. To schedule an inspection for your Westwood home or business and receive a free raccoon removal estimate, please call us today at 617-975-0440.