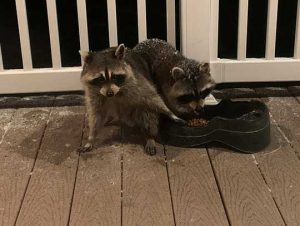 Raccoons are nocturnal animals that are often attracted to residential and commercial areas in Weymouth, MA in their search for shelter and food. Raccoons can quickly become a nuisance to homes and businesses, as well as a dangerous and destructive pest. If you see or suspect a raccoon has made its way into your Weymouth property, do not approach the animal. Instead, quickly call the professionals at Critter Control® of Boston for fast and efficient raccoon removal services.
4 Signs of a Raccoon Infestation
Raccoons love to nest in dark and secluded areas, making your Weymouth attic and garage a perfect home for the pests. To prevent damage to your Weymouth home or business, it is essential to be aware of the signs of a potential raccoon problem. Here are some common signs to look out for:
Knocked over trash cans. Raccoons are notorious for rummaging through trash cans in search of food.
Damage in your home. Raccoons can cause damage to wiring, insulation, window screens, and drywall if they manage to get inside your home.
Destruction in your garden. Raccoons will destroy your fruit or vegetable garden to gain access to your produce.
Strange noises. Hearing loud noises like the rattling of trash cans, overhead scratching coming from the attic, or disturbing growling or squeaking sounds are clear signs of a raccoon infestation.
Dangers of a Raccoon Infestation
While raccoons scavenging through your trash cans may not seem like a big deal, it is imperative that you do not approach them because they can pose a serious health risk to humans and pets. Raccoons are usually not aggressive critters; however, they may attack if cornered or threatened. The following facts explain the threats that raccoons can bring to your property:
Raccoons are one of the primary carriers of rabies.
Raccoons have sharp teeth and claws and can bite of scratch if provoked.
Raccoon droppings and urine can expose you to health risks such as roundworm and Leptospirosis.
Our Four-Step Raccoon Removal Process
Because of the risks listed above, you should rely on the licensed and trained experts at Critter Control® of Boston to safely take care of your growing raccoon infestation. Our process includes:
Inspection – Our expert technicians will examine interior and exterior spaces in your home to locate the critters and identify potential entry points around your property.
Removal – After identifying access points, our experts will make a plan to remove all raccoons safely and humanely from your property.
Restoration – After the nuisance raccoons are relocated, we will clean, restore, and fix any damage caused by the invasive critters.
Prevention – We will install safeguards to reduce the risk of raccoons invading your Weymouth property again.
Raccoon Removal Experts in Weymouth, MA
Don't let nuisance raccoons overrun your Weymouth home, damage your property, or pose a health risk to your family and pets. If you suspect that you have a raccoon infestation, call the experts at Critter Control® of Boston right away. Our professional raccoon removal technicians will quickly and safely remove nuisance raccoons from your property and keep them from returning.
To schedule an inspection and receive a free raccoon removal estimate, call 617-975-0440 today.