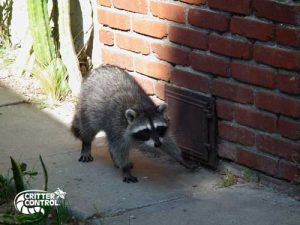 Most active during the spring, summer, and fall, raccoons are quite common in Greater Boston area suburbs like Needham, MA. The mischievous scavengers are often seen in residential and commercial areas looking for food and shelter. While they may appear harmless and even cute, raccoons can be incredibly dangerous and cause significant damage to your home.
If you encounter a raccoon on your Needham property or inside your home, it is vital that you keep a safe distance and contact the wildlife control professionals at Critter Control® of Needham as soon as possible for fast and effective raccoon removal services.
Dangers, Diseases, and Damages of Raccoons
Raccoons require immediate attention when you spot them on your property because they are known to carry various infectious diseases, including rabies. While typically docile and wary of humans, raccoons can attack if they are rabid or if they feel cornered or threatened; this is why it is critical that you do not attempt to capture the animal. Instead, contact our wildlife professionals to handle the invasive creature.
Raccoons are also known to cause damage to properties in their attempt to access food sources. Whether it's shredded screen doors, broken window sills, contaminated kitchens, chewed wires, or scratched-up walls,  flooring, and baseboards, raccoon damage is not something you want to deal with.
4 Signs of a Raccoon Infestation
One way to avoid these risks is by knowing the signs of an impending raccoon infestation. Signs include:
Racoon droppings around your property
Tipped-over or damaged trash cans
Tears or scratches in your window screens
Damages to your garden or paw prints in your flower bed
Needham, MA Raccoon Removal Professionals
If you notice any of the above signs of raccoon activity on or around your property, it is important that you contact a wildlife removal specialist at Critter Control® of Needham.
At Critter Control® of Needham, we follow safe and humane methods for removing unwanted pests. Our CritterSafe® process includes the following steps:
Inspection – One of our wildlife experts will conduct a thorough inspection of your property.
Removal – After determining the scale of the infestation, our wildlife technician will safely and completely remove all unwelcome creatures.
Prevention – A layer of protection will be installed to minimize the risk of future infestations.
Restoration – Any contaminated areas of your property will be cleaned and any damages the critters caused will be repaired.
To schedule your inspection and receive a free estimate for our raccoon removal services, call Critter Control® of Needham today at 617-975-0440.