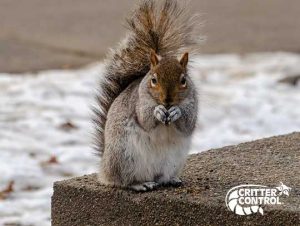 Massachusetts is home to various wildlife that can be a threat to your Needham, MA property or business. Rodents are one of the most common types of nuisance wildlife in the Greater Boston area, in particular rats, mice, squirrels, and groundhogs. These critters are crafty and can cause significant damage to property if they decide to invade your home or business in search of food and shelter. Furthermore, it is difficult to remove them because of their small size and the narrow spaces they tend to occupy.
If your property in the Greater Boston area is overrun with invasive wildlife such as squirrels, then keep a safe distance and rely on the rodent removal experts at Critter Control® of Needham.
The Signs of a Rodent Infestation
The presence of rodents on your property or place of business can be surprising at first. Most rodent infestations go unnoticed until they have grown into an unmanageable size because of a rodent's ability to rapidly reproduce. To prevent this from occurring in your home or business, it is important to know the common signs of a rodent infestation:
Scratching or scurrying noises coming from walls or ceilings at night
Scratched floorboards and chewed drywall or wooden structures
A distinct ammonia-like smell throughout your property
Stains and droppings along walls and floors
The Dangers and Damages of a Rodent Infestation
As mentioned, rodents can cause severe damage to your Greater Boston area home or business. Groundhogs damage the crops in farms and gardens, such as apples, carrots, lettuce and flowers. Their burrow holes can ruin building foundations, driveways and lawns. While groundhogs destroy the curb appeal of your property, rats, mice, and squirrels are responsible for the interior damage and health risks.
Once these rodents have invaded your property, they will rapidly nest, breed, and spread their contamination. Small interior rodents will incessantly chew on walls, drywall, electrical wiring, plastic piping, insulation, and wooden beams. Such activity can cause leaks, power outages, and house fires.
In addition to structural damage, rodents are a threat to you and your family. Rats and mice are notorious disease spreaders and carry parasites that are harmful to humans. Therefore, if you suspect any rodent activity on your Needham, MA property, do not attempt to handle it alone. Instead, call the licensed rodent removal professionals at Critter Control ® of Boston.
Reliable Needham, MA Rodent Removal Services
Don't waste your time and money on temporary do-it-yourself rodent removal methods which can put your safety at risk. The team of licensed and trained wildlife professionals at Critter Control ® of Boston practice humane and efficient methods of removal for all nuisance wildlife and have the proper experience and equipment to complete the job.
Our trusted rodent removal strategy involves:
Inspection – We identify your rodent pest and locate all potential nests and entry points.
Removal  –  We isolate and remove all rodents from the property in a humane fashion.
Exclusion  –  We seal all entry points to prevent future rodent invasions.
Restoration  –  Any area impacted by rodents is cleaned, sanitized, and repaired.
To schedule an inspection for your Needham home or business, call Critter Control® of Needham today at 617-975-0440.