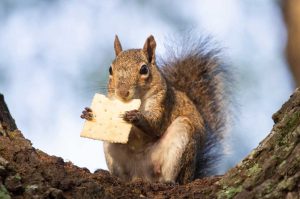 When compared to finding a rat or a snake on your property, catching a squirrel in your home may seem much less concerning. However, these small, furry rodents should not be written off as harmless. Squirrels have exceptionally sharp teeth that do not stop growing and they will use them to chew through wooden beams, drywall, and wires in your property to help file them down. Furthermore, they can transfer dangerous diseases if they bite or scratch you, your family members, or your pets.
Therefore, if you catch a squirrel sneaking around your Byfield, Massachusetts home or business, be sure to call the experts wildlife technicians at Critter Control® of Byfield for safe and fast squirrel removal services.
4 Common Points of Squirrel Entry
While many think of their residence as being impenetrable, squirrels don't require a grand entrance to sneak their way inside of your property. They are exceptionally good at finding small crevices that the untrained eye wouldn't typically notice. Here are some of the most common building exterior openings that squirrels use to gain entry.
Plastic roof vents
Roof and soffit intersections
Rubber plumbing mats
Uncapped chimneys
While these are just the most common squirrel entry points, there are so many different spots that a squirrel can target that you wouldn't normally think of. This is why it is so important to contact a professional wildlife technician at Critter Control® of Byfield to perform an inspection of your property. With expertise and experience, our licensed experts are trained to find and seal any potential points of entry, giving you the peace of mind that squirrels will not be entering your home anytime soon.
Our CritterSafe® Squirrel Removal Method
Led by one of our professionals, our four-step CritterSafe® method ensures an efficient and strategic squirrel removal process that includes:
Inspection
Removal
Restoration
Prevention
Following a comprehensive property inspection, we will isolate and humanely remove the animals, locate and seal all squirrel entry points to prevent future infestation, and then clean any damage or contamination left by the pests. In order to ensure proper removal, these steps are customized to fit your specific needs. Not only will we work with you throughout the process, but we will also keep you informed every step of the way.
Your Byfield Squirrel Removal Experts
While squirrels may seem cute, at the end of the day they belong nowhere near your commercial or residential property. If you suspect that you may have a squirrel infestation anywhere in the Greater Boston area, contact the professional animal removal experts at Critter Control® of Byfield as soon as possible. Not only can we help you permanently resolve an existing squirrel problem, but we can also help safeguard your property to prevent one from occurring.
To inquire about our services or to schedule an inspection of your property, call 617-975-0440 today.