From offices and restaurants to apartments and homes, squirrels can cause trouble for just about any building in Charlestown. But the sooner you seek professional wildlife help, the better your cha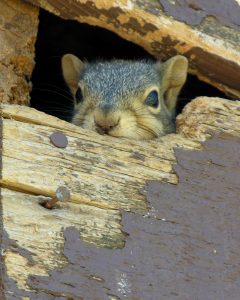 nces of low-risk, low-cost squirrel removal. Even if your situation is far beyond what you expected, the animal experts at Critter Control® of Charlestown will work with you to come up with a personalized management plan that excludes unwanted critters and blocks re-entry.
6 Threats of Wild Squirrels
Wildlife is captivating, exotic, and incredibly important to the Greater Boston environment, which is why all wild animals belong in the wild. When squirrels wander where they don't belong — inside your home or business — they bring the threat of the outdoors along with them, which includes:
Mites

Fleas

Urine

Feces

Diseases

Bacteria
Keeping your property safe from squirrels is essential to your health and the health of everyone that works for your business, shops at your location, or lives in your home. That's why the licensed technicians at Critter Control® of Charlestown are dedicated to humanely handling squirrels and understanding the most effective ways to safely prevent their return.
Critter Control® of Charlestown Step-By-Step Squirrel Removal Process
At Critter Control® of Charlestown, we strive to make wildlife management work for you. Adhering to your budget and turning to humane wildlife strategies, we'll create an original squirrel removal strategy using the following four steps:
Inspection

Our technicians can spot the holes, gaps, and cracks that squirrels and other wild animals could use for entry and find out exactly how your infestation started.

Removal

We do our part to not only remove squirrels but also relocate them to an area that's safer for nesting, breeding, and surviving.

Restoration

With insulation repair and entry point restoration services, we can get your building back in shape.

Prevention

Blocking points of entry and installing protective devices are just a handful of ways that we can safeguard your home from future infestations.
Need Wildlife Protection in Charlestown? Call Critter Control® of Charlestown
If squirrels are stirring up trouble on your property, call the team at Critter Control® of Charlestown. We can provide fast results that won't fade away, which means you can feel safe knowing that your building is protected with long-term wildlife security.
Schedule an inspection of your home or business today by calling 617-975-0440.