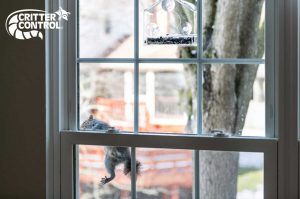 Observing a squirrel scurrying around outdoors, climbing a tree, or eating an acorn can be a real charming experience. However, your opinion of the critter might change drastically if one happens to find its way into your Danvers, Massachusetts home or business. That's because squirrels are wild animals that can cause a lot of damage and bring a myriad of health issues to your residence or place of business.
If you see signs of a squirrel infestation, don't delay in calling the experts at Critter Control® of Danvers. Equipped for safe and humane squirrel removal and exclusion methods, our licensed and trained professionals can help resolve your squirrel issue swiftly, discreetly, and permanently.
4 Signs You Might Have a Squirrel Problem in Danvers
You might think that your Danvers home or office is tightly secure against wildlife intrusion, but squirrels are tenacious and resourceful in their search for food, warmth, and shelter. Signs that squirrels are nesting in your property include:
The sounds of their scurrying, scratching, and squeaking coming from walls and attics
Shredded insulation, cardboard, or other materials
Chew marks on wood beams, drywall, and electrical wiring
The sight, smell, or stains of squirrel droppings and urine
The Dangers of a Danvers Squirrel Infestation
Squirrels can also bring a host of health issues that you certainly want to avoid. These can include:
Leptospirosis – This disease can lead to kidney failure and is transmitted when animal urine comes into contact with open wounds.
Lyme disease – A disease spread by ticks that can be carried into your property by a squirrel.
Rabies – Although rare, squirrels have been known to carry the potentially fatal disease.
Our Four-Step Danvers Squirrel Removal Process
Once our team determines how the squirrels got in your property, they will work with you every step of the way to strategize a squirrel removal and exclusion plan that best fits your needs. For every infestation, we utilize our humane CritterSafe® system to achieve the safest and most efficient results possible. Our four-step system includes:
Inspection
Removal
Restoration
Prevention
End Your Squirrel Infestation with Critter Control® of Danvers
If your property in the Greater Boston area is overrun with invasive wildlife such as squirrels, then you should rely on the professional animal removal experts at Critter Control® of Danvers. Whether you have an existing pest problem or want to prevent one from ever starting, you can count on us for safe and effective services.
To schedule an inspection for your Danvers home or business, call us today at 617-975-0440.