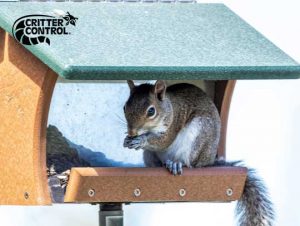 Almost resembling a stuffed animal, squirrels appear to be cute, bushy-tailed, and sweet, so it is easy for Georgetown, Massachusetts home and business owners to disregard them when they congregate outside their properties. However, behind these cute exteriors are behaviors just like any other wild animal. As such, squirrels can be quite a destructive and nuisance menace if they manage to enter and infest your Georgetown home or business.
If you see signs of a squirrel intrusion or think they may have already settled in, don't delay in calling the experts at Critter Control® of Georgetown. Our licensed and trained technicians are equipped to provide fast, efficient, and humane squirrel removal and exclusion services.
5 Ways Squirrels Can Enter Your Georgetown Property
Because of their small size and sheer will, squirrels are resourceful rodents and have no difficulty using their teeth and claws to enter Georgetown residences and commercial buildings to cause some serious damage.
Squirrels commonly enter Georgetown properties in a variety of ways:
Damaged and torn shingles
Holes in fascia boards
Rotted and weakened soffits
Small siding gaps
Uncapped chimneys
It's common for home and business owners to not notice exterior entry points as they are small, secluded, and often easy to miss. Fortunately, our experienced and seasoned technicians have a trained eye for spotting areas of exposure that squirrels can use to get inside your Georgetown home or office.
Our CritterSafe® Georgetown Squirrel Removal Process
Once our team determines how squirrels entered your Georgetown home or business, we can craft a detailed removal and exclusion strategy. To create a plan that best fits your needs, we'll work with you every step of the way and let our CritterSafe® system guide us to the safest and most humane possible results. Our four-step system includes:
Inspection
Removal
Restoration
Prevention
Get Squirrels Out for Good With Critter Control® of Georgetown
If your property in the Greater Boston area is overrun with invasive wildlife such as squirrels, then you should rely on the professional animal removal experts at Critter Control® of Georgetown. Whether you have an existing pest problem or want to prevent one from ever starting, you can count on us for safe and effective services.
To schedule an inspection for your home or business, call the squirrel removal experts at 617-975-0440.