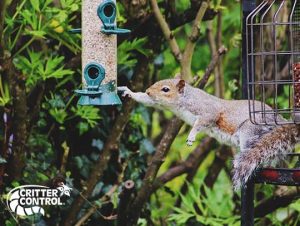 Residents of Groveland, Massachusetts are no stranger to the sight of squirrels in the area. Because the small rodents are known to be cute, curious, and seemingly harmless creatures, many people like to sit and feed them at local parks and outdoor eateries. Because of this, squirrels have grown to associate humans as a source of food and will venture into residential and commercial properties in search of sustenance. However, squirrels do not belong indoors as they are capable of causing unnecessary damages to homes and businesses should they manage to get inside.
Fortunately, if you have a squirrel problem on your Groveland property, you don't have to face it alone. The wildlife experts at Critter Control® of Groveland are experienced inefficient and effective squirrel removal methods so that you can get rid of squirrels and regain the peace of mind that you desire.
5 Common Squirrel Access Points
Even if you think of your home as an impenetrable fortress, a crafty squirrel can find its way inside. In fact, squirrels are experts at navigating entry points so small that you may overlook or disregard them as impossible to penetrate.
Here are some of the most common access points that squirrels use to enter properties:
Damaged shingles
Fascia board holes
Siding gaps
Uncapped chimneys
Weakened soffits
At Critter Control® of Groveland, we make sure to do a thorough inspection of your property. This includes identifying any entry points that the creatures may have used to enter your home or business and sealing them completely to prevent a future infestation.
Our CritterSafe® Squirrel Removal Method
When it comes to humane pest removal, nothing beats our four-step CritterSafe® removal method. Our process consists of the following steps.
Inspection

First, we inspect your property to locate any unwanted wildlife and determine how they entered your home.

Removal

Next, we will safely isolate, capture, and remove all nuisance animals.

Restoration

Afterward, we will clean any areas the animals have damaged or contaminated.

Prevention

Finally, we will seal all discovered entry points so that wildlife cannot return.
Our completely humane method is designed to protect the safety of the animal as well as your property and its inhabitants.
Your Groveland Squirrel Removal Experts
If your Groveland property is in dire need of an emergency squirrel removal service, then look no further than the licensed and trained wildlife removal technicians at Critter Control® of Groveland. Extremely knowledgeable and experienced, our experts are skilled in all types of animal removal from squirrels and rats to raccoons and bats. Not only will we ensure a swift end to your infestation, but we will also take the necessary steps to prevent a future problem from starting.
For more information on our squirrel removal services or to schedule an inspection of your Groveland property, visit our website or call us at 617-975-0440 today.