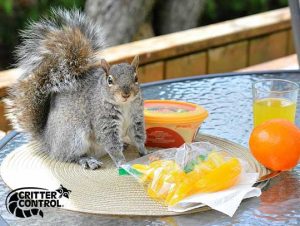 If you're enjoying a quiet stroll in a local Hathorne, Massachusetts park, a squirrel encounter may be a lovely addition to your day. However, if a squirrel encounter happens inside your living room, then it can be a traumatizing experience. That is because squirrels, while cute and fuzzy, can cause significant damage and disturbance to your Greater Boston area property if they get inside. Fortunately, the wildlife technicians at Critter Control® of Hathorne are on hand to help eliminate your wildlife issue through their humane, safe, and reliable squirrel removal methods.
Signs of a Squirrel Infestation
Have you found unfamiliar droppings around your home? Maybe there have been scurrying and chittering noises keeping you up at night. These are both signs of a possible squirrel infestation on your property. If you notice any of these signs, it is vital to contact a Hathorne squirrel removal expert as soon as possible to gauge the scale of the issue. Relying on trained and experienced experts will not only ensure that the removal is swift, minimizing the possible damages to your property, but it will also lessen the chance of the wild rodent transmitting a dangerous disease to you or your family.
Our Four-Step CritterSafe® Squirrel Removal Method
When it comes to squirrel removal services in Hathorne, there is no procedure more effective than our four-step CritterSafe® squirrel removal method. It consists of the following steps:
Inspection – We thoroughly inspect your property to find the unwelcome creatures and locate their entry points.
Removal – After isolating and humanely trapping the critters, we safely remove them from your property.
Exclusion – To ensure squirrels can't return, we seal any entry points that the squirrels may have used to access your property.
Restoration – Any damage or contamination the rodents left behind are repaired and cleaned.
Hathorne Squirrel Removal Experts
If your Hathorne property is overrun with squirrels or other pests and you don't know what to do, then rely on the experts at Critter Control® of Hathorne. Our knowledgeable wildlife removal technicians are licensed, trained, and equipped to handle a variety of animal infestations. Not only is our safe and humane removal process thorough, but it is also completely customizable to suit your specific needs and budget.
To learn more about our Hathorne squirrel removal services or to schedule an inspection, visit our website or call us at 617-975-0440 today.