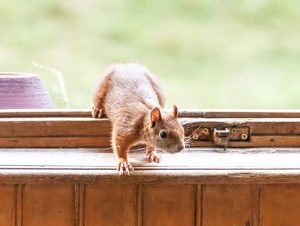 Squirrels are everywhere in Beverly, Massachusetts and, from a distance, they often seem cute and harmless. However, the furry rodents can cause a lot of problems if they make a home in your chimney, garage, or attic. If you want to get squirrels off your property, rely on the squirrel removal experts at Critter Control® of Boston.
Signs of Squirrels
Since these critters are so nimble and quick, squirrels can hide for a long time on your property. Some signs the pests have made their way inside include:
Strong ammonia/urine smell coming from your attic or garage
Scratching or squeaks coming from the ceiling or walls
More squirrels than usual on your property or roof
The sooner you notice these signs, the quicker the squirrel infestation can be dealt with.
The Damages Caused by Squirrels
Squirrels can cause a lot of damage in a short amount of time. If you have bird feeders or produce growing, they'll see it as a food source and destroy it. They'll gnaw through any material to nest inside your home, including electrical wiring, furniture, walls, flooring, and insulation. Their incessant gnawing can lead to increased fire hazards and electrical power failure.
Not only can squirrel-related damage put the structural integrity of your home at risk, but they can also spread contamination and disease throughout your property.
Safe Squirrel Removal Methods
Trying to remove squirrels on your own can result in bites, scratches, and the spread of disease. Instead of risking your well-being, contact our licensed technicians who are trained in a four-step removal process that is eco-friendly and humane. Our methods include:
Inspection: We conduct a thorough walkthrough to determine the size and extent of the infestation.
Removal: Using safe and low-risk treatments, we will remove all squirrels from your property.
Exclusion: Any entry points used by the squirrels are sealed to prevent them from returning.
Restoration: Property damage caused by the squirrels is cleaned and restored to its original condition.
Your Beverly, MA Squirrel Removal Experts
Whether you have an existing pest problem or want to prevent one from ever starting, count on the experts at Critter Control® of Boston for safe and effective services. To schedule an inspection for your home or business and receive a free squirrel removal estimate, call us today at 617-975-0440.