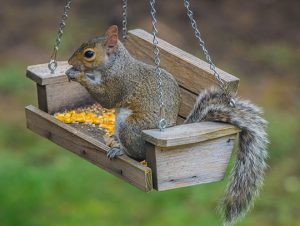 While squirrels present themselves as cute and pleasant critters, they can be an absolute terror if they get into your property. Due to their destructive gnawing and nesting habits, squirrels can cause severe property damage and spread disease and contamination in the process.
If you find that your Salem, MA property is in the midst of a squirrel infestation, rely on the squirrel removal experts at Critter Control® of Boston to help.
How Squirrels Infest Salem Properties
Your Salem property may be more vulnerable to wildlife infestations than you think.
Squirrels regularly use roofs and gutters to access homes. These areas can develop holes over time that, if not sealed, can be penetrated and chewed through by squirrels and other pests and used to enter and infest your attic. Keep in mind, rodents like squirrels, rats, and mice can squeeze their way through even the smallest of holes, so perform an exterior inspection of your home to look for any gaps or holes. If you discover exposures in your property, it is vital that you patch them as soon as possible to prevent an infestation.
Squirrels can also get onto your rooftop by scaling tree limbs that hang over your home. A good way to prevent a squirrel invasion is to trim back any nearby vegetation that is providing pests a bridge to your property.
Our CritterSafe® Squirrel Removal Method
If squirrels have already nested and infested your home, then Critter Control® of Boston should be your first call. We provide the residences and businesses of Salem with a proven, four-step method for squirrel removal. Our process is thorough, effective, and consists of the following steps:
Inspection – First, we conduct a thorough inspection of your property to locate all nuisance squirrels and identify potential entry points that they used to get into your property.
Removal – Next, we isolate the creatures and remove them using non-toxic and eco-friendly methods that are both safe and humane for the animal and your property.
Restoration – Then, we disinfect and repair any infested or damaged areas of your property.
Prevention – Finally, we seal potential entry points to ensure your squirrel issue is over.
Professional Squirrel Removal Services in Salem
When you have a squirrel issue on your Salem property, rely on the squirrel removal specialists at Critter Control® of Boston. Our team of licensed and trained wildlife experts are dedicated to serving the Greater Boston area with safe, effective, and humane wildlife removal services.
For more information on our squirrel removal services or to schedule an inspection of your Salem property, call Critter Control® of Boston at 617-975-0440 today.