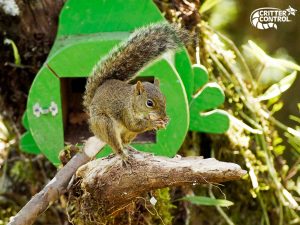 Most people see squirrels as cute, furry, and innocent animals. So when considering all the destructive critters that could infest your Needham property, squirrels are probably last on your list. However, those who have suffered from a squirrel infestation will attest to a different story.
If squirrels manage to nest inside, they will chew through your home and cause all sorts of contamination and structural damage that can result in costly repairs. To prevent such calamity, call the squirrel removal experts at Critter Control® of Needham as soon as you suspect any squirrel activity on your Greater Boston area property.
4 Most Common Entry Points for Squirrels
Because they are small and agile, squirrels will exploit any vulnerability in your property's infrastructure. Even when your home or business has no visible holes or gaps, squirrels can still find entry points. Some of the most common access points that squirrels use to invade Needham properties include:
Roof vents
Unsealed chimneys
Underneath loose roofing shingles or tiles
Roof, soffit, and gutter intersections
Securing these spots may reduce the probability of an invasion, but squirrels are tenacious critters that can chew their way into your residential home or commercial business. Thus, it is important to schedule an inspection with the professionals at Critter Control® of Needham to assess the state of your property and identify and seal any areas of exposure. Our expert team knows where to look and what to do to squirrel-proof your property.
Our CritterSafe® Squirrel Removal Strategy
While there is no single formula to deal with every critter invasion, the experienced and knowledgeable professionals at Critter Control® of Needham have developed a wildlife removal process that can effectively resolve your squirrel infestation. With our CritterSafe® method, we can efficiently and humanely remove invasive wildlife from your property. Our four-step process involves:
Inspection
Removal
Restoration
Prevention
Squirrel-Proof Your Boston-Area Property With Critter Control® of Needham
You might think that squirrels are adorable and harmless animals, but your perception will change once they invade and cause damage to your property. If you suspect that squirrels have infested your Needham home or business, the certified wildlife removal team at Critter Control® of Needham is here to help. From squirrels and rats to raccoons and bats, our licensed and trained professionals have the tools and experience needed to resolve any wildlife issue you may face.
To schedule an appointment and receive a free estimate for our mice removal services, call Critter Control® of Needham today at 617-975-0440.