A squirrel infestation is a serious issue. Don't attempt to handle squirrel removal on your own, and don't wait any longer to get it professionally taken care of. Whether it's your home, office, apartment complex, or retail store, our team of licensed professionals at Critter Control® of North Reading is ready to help.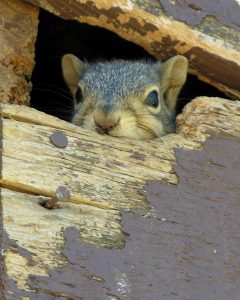 The Telltale Signs of Squirrels
You don't need a visual confirmation to reach out for professional wildlife assistance. If you find any of these signs around your home or business, contact the team at Critter Control® of North Reading.
Chewing — Squirrels have strong teeth that can gnaw through anything from cardboard to plumbing pipes.
Scurrying — Typically active in the daytime, squirrels are quick, active critters that make a lot of noise when moving around inside your home or business.
Squeaking — The noise they make to communicate can range from a chirp to a screech, but you'll probably only hear it during daylight hours.
Nesting — To get more comfortable inside your home or business, squirrels build nests with materials like insulation, newspaper, and twigs that they bring from outside.
Urinating — Puddles of urine and piles of droppings are obvious signs that squirrels are nesting somewhere inside your building.
The Price of Squirrel Removal
We work with your building and your budget to come up with a wildlife management plan that works for you –– regardless of how much damage squirrels have stirred up. But the longer you wait to call, the higher your building is at risk of:
Structural damage
Electrical issues
Plumbing problems
HVAC malfunction
Food and water contamination
Mold growth
The Wildlife Solution for Squirrels
After inspecting your property to identify animals, entry points, and the most immediate threats, we'll come up with a plan that pairs well with your budget. Using eco-friendly products, services, and alternatives, we'll exclude squirrels from your building, humanely handle them every step of the way, and revisit the parts they've contaminated.
From there, we can sanitize the space and patch up the holes, openings, and gaps the critters used to get inside –– preventing another animal from bothering your home or business in the future.
To learn more about the safety and security of our wildlife services at Critter Control® of North Reading, contact us today at 617-975-0440.