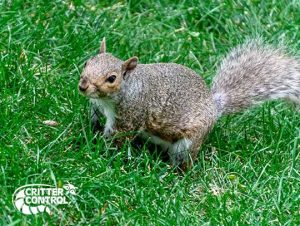 The Greater Boston area is home to various wildlife that can be a threat to your Westwood, MA property or business. One of the most troublesome wild animals in the area is squirrels. Squirrels are a common species of rodent in residential Massachusetts neighborhoods and commercial districts. They are also crafty and can cause significant damage to property if they decide to invade your home or business in search for food and shelter.
Fortunately, the expert squirrel removal technicians at Critter Control ® of Westood are prepared to prevent squirrel-related property damage by permanently removing the nuisance pests from your Westwood home or business.
How Squirrels Enter Westwood, MA Properties
Big or small, squirrels can squeeze through any sized hole or gap to enter your property. Whether it be from the ground or through a structure, squirrels are adept at making their way into buildings. The number of areas a squirrel can target are essentially endless, so it is important to fix or seal any exposures your property may have. A few common access points that squirrels use to gain entry include:
Uncapped chimneys
Damaged shingles
Small gaps in siding
Rubber plumbing mats
Roof and soffit intersections
5 Common Damages Caused by Squirrels
Practically nothing in your home is safe from a squirrel infestation. Once a squirrel has entered your property, the damage they can cause could be serious. Most of the damage done by squirrels is with their teeth. Squirrels will gnaw and chew through objects such as:
Electrical Wiring
Plastics
Insulation
Drywall
Wood
In addition to structural damage, squirrels are a threat to you and your family because they can spread infectious diseases such as leptospirosis and hantavirus pulmonary syndrome. It is also difficult to remove squirrels on your own because of their small size, fast and agile movements, and their ability to occupy tight spaces.
Instead of investing your time and money in costly and laborious do-it-yourself squirrel removal methods which can put your own safety at risk, rely on the wildlife professionals at Critter Control ® of Westwood.
Safe and Effective Westwood, MA Squirrel Removal Services
At Critter Control ® of Westwood, our team of licensed and trained professionals practice humane and efficient methods of removal for all nuisance wildlife and has the proper experience and equipment to complete the job. Our trusted squirrel removal strategy involves:
Inspection – We identify your rodent pest and locate all potential nests and entry points.
Removal – We isolate and remove all rodents from the property in a humane fashion.
Prevention – We seal all entry points to prevent future rodent invasions.
Restoration – Any area impacted by rodents is cleaned, sanitized, and repaired.
If your property in the greater Boston area is overrun with invasive squirrels, then keep your distance and contact the squirrel removal experts at Critter Control® of Westwood. Whether you have an existing pest problem or want to prevent one from starting, you can count on us. To schedule an inspection for your Westwood home or business call us at 617-975-0440.