They're tiny, charming, and downright adorable — but wild squirrels don't belong in your home or business any more than the other critters in Wilmington. Squirrels can cause short- and long-term damage, introduce a host of medical hazards, and leave you with a stack of bills.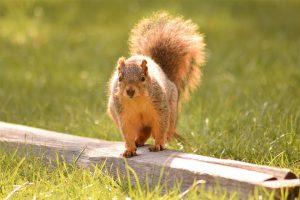 So, before you order any materials online, run out to purchase DIY products, or attempt to solve your squirrel removal on your own, call the team of licensed and insured technicians at Critter Control® of Wilmington. Our years of experience and eco-friendly service options allow us to secure your property in the safest ways possible.
5 Main Signs of Squirrels in Wilmington
If you need squirrel removal, we'll resolve the issue by clearing, sanitizing, and protecting your building. But how can you tell if you have a wildlife issue before it's too late? Never ignore the warning signs, which include:
Urine, droppings, and a foul odor
Chewed wires and gnawed boxes
Shuffling and rustling noises in the day
Nests made of indoor and outdoor materials
Scratch marks along the exterior and interior entry points
Squirrel Damage You Don't Want to Deal With
As long as they stay out of sight, squirrels can't cause that much damage, right? You might think your home or business is fairly safe if you have a small-scale wildlife situation, but even just a few squirrels can cause a mountain of issues, such as:
Plumbing leaks — PVC pipes aren't strong enough to stop squirrels, which means you could have major leaks if you don't remove the critters immediately.
HVAC malfunctions — When they use insulation and other attic materials to build nests, squirrels can cause severe damage to your HVAC unit.
Electrical shortages — Chewing through wires, squirrels will not only ruin your appliances but also cause dangerous electrical shortages.
Wildlife Professionals That Can Help
It's your property, so don't let any person or critter inside without an invitation. To keep squirrels from nesting in your attic, getting trapped in your chimney, or finding a way in between your walls, call Critter Control® of Wilmington. We'll inspect your property, remove any wild animals, seal each entry point, and sterilize the critters of the area that have contaminated.
To schedule squirrel removal, contact Critter Control of Boston today at 617-975-0440.