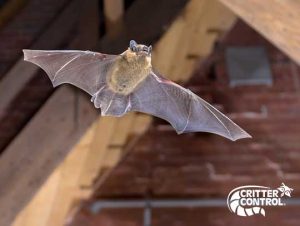 The historic buildings and lush parks of Wellesley, Massachusetts make it a beautiful place to live for both humans and wildlife. However, when wild animals like bats decide to cohabitate in residential and commercial properties, it can be problematic for Wellesley home and business owners.
If you suspect bats have made a home in your Wellesley, MA property, call the professionals at Critter Control® of Boston for safe and humane bat removal services.
4 Signs of a Bat Infestation
Bats aren't quiet critters, and it's easy to tell if they've made it into your home or office. To determine if your property has a bat infestation, look for the following signs:
Loud scratching, flapping, or chirping noises, especially at dawn or dusk
Grease marks around entry points, crawlspaces, or holes in the attic
A strong ammonia smell coming from the attic
Small piles of bat droppings (guano) or urine trails on rafters
The Dangers of Invasive Bats
Bats can cause a lot of damage to Wellesley properties and pose health risks to you and your family. Before attempting to remove bats on your own, consider some of the risks bats pose.
Property Damage – Guano is toxic and corrosive. If left untreated, a bat's droppings can damage the rafters and beams in your attic, threatening the structure of your home.
Diseases – Bats can carry rabies and can pass them on through bites or scratches. Bat droppings also carry various pathogens which can cause lung diseases, such as histoplasmosis, if inhaled.
Our Effective Bat Removal Process
Bats are protected species in Massachusetts, and there are several laws that regulate their removal outside of mating season. Critter Control® of Wellesley uses a four-step, legal removal process that focuses on safely and humanely excluding bats and other nuisance wildlife. Our methods include:
Inspection – We perform a comprehensive inspection to determine the severity of infestation.
Removal – Using exit-only devices, we exclude the invasive bats and keep them from returning.
Repair – After removal, we will clean, sanitize, and restore interior damages caused by the bats.
Prevention – To ensure bats and other pests don't return, we seal all entry points around the home.
Your Wellesley, MA Bat Removal Professionals
While bats can be beneficial to the environment, they do not belong on your property. Therefore, if your Wellesley, MA property is overrun with invasive bats, then rely on the professional animal removal experts at Critter Control® of Boston for safe and effective wildlife removal.
To schedule an inspection and receive a free estimate for our bat removal services, call us today at 617-975-0440.