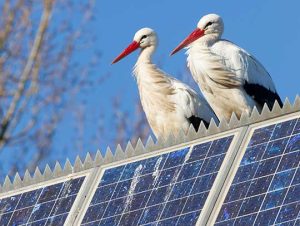 Installing solar panels is a great way to save on your monthly electric bill; however, protecting them is critical to ensure they maintain their required level of performance. For homeowners who have gone green, this means shielding them from serious weather conditions, overgrown vegetation, and, especially, animal intrusion.
If your Greater Boston area home is located in an area that attracts nuisance wildlife, then you should consider the following strategies to protect your solar panels from wild animals.
Trim Back Vegetation Near Your Solar Panels
Overhanging limbs give wild animals like raccoons, squirrels, rats, and mice direct access to your roof. Once on top of your home, they will search for a way inside through vents and fixtures. The reinforcements that anchor your solar panel system into your roof can give these small and nimble pests room to crawl underneath your solar panels and claw and chew their way into your home damaging your panels in the process.
Install Solar Panel Guards
The best way to protect your solar panels from incurring wildlife-related damage is to install solar panel guards. Solar panel guards consist of strong netting made of galvanized metal. The devices are designed to protect the six-inch gap between your solar panels and your roof from unwanted critter infiltration. By matching the color and look of an average solar panel system, solar panel guards are made to blend in nicely with the aesthetic of your roof.
Avoid Solar Panel Repair with Critter Control® of Boston
Before investing in solar panel repair, ensure that there are no critters already living underneath your solar panels. The wildlife removal specialists at Critter Control® of Boston can inspect your roof to determine the cause of your solar panel damage and remove any nuisance wildlife that is infesting your property.
Your Boston Wildlife Removal and Solar Panel Guard Specialists
If you need wildlife removal services to protect your solar panel system, rely on the professionals at Critter Control® of Boston.
Our wildlife removal specialists are trained in all kinds of critter removals, from rodents and raccoons to nesting birds. Our removal methods are safe and effective, and we can even help install preventative measures like solar panel guards to keep unwanted wildlife from infiltrating your roof and damaging your property.
For more information on our services or to schedule an inspection of your Greater Boston area property, call Critter Control® of Boston today at 617-975-0440.