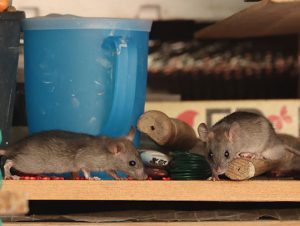 Nuisance mice are one of the most common pests that Milton home and business owners deal with. While tiny rodents may seem harmless and cute, the destructive critters can chew and crawl through small openings to access your property and use it as shelter. They nest and breed rapidly and can quickly contaminate food and water supplies and cause extensive property damage.
If you believe your Milton, MA property has a mouse problem, Critter Control® of Boston is here to help with effective and fast mice removal services.
The Dangers of Mice on Your Milton Property
Mice can cause lots of problems in a small amount of time. Some of the biggest dangers of mice include:
Food Contamination

Mice are scavengers and will eat whatever they can get their paws on. They will chew through food boxes, trashbags, and cardboard containers to access your food and contaminate your kitchen as they run across countertops and flooring spreading their waste.

Property Damage

Mice have sharp teeth that can chew through just about anything. In addition to damaging your furniture and personal property, mice can also cause fire hazards by chewing through important electrical wires running through your home.

Spread of Illness

Mice carry several diseases, including salmonellosis, leptospirosis and rat-bite fever. They can also carry parasites that can be passed on to you, your pets, or your loved ones, including fleas, ticks, and tapeworms.
Don't let mice overrun your Milton home or business. As soon as you notice signs of mice on your property, call the experts at Critter Control® of Boston.
Expert Mice Removal Services in Milton, MA
At Critter Control® of Boston, we don't use toxic chemicals or harsh methods to resolve your mouse issue. Instead, our team of mice removal professionals use a four-step method that is safe, effective and humane. Our process includes:
Inspection – We evaluate your property to determine the size and extent of the infestation.
Removal – Our licensed technician uses eco-friendly methods to safely remove all mice from your property.
Repair – Any damages caused by the mice are cleaned and restored.
Exclusion – We seal any entry points to prevent the mice from returning.
If your Milton property is overrun with invasive mice, rely on the professional pest control experts at Critter Control® of Boston. Call us today at 617-975-0440 to schedule your inspection and receive a free mice removal estimate.