Known as the "City of Presidents," Quincy, Massachusetts,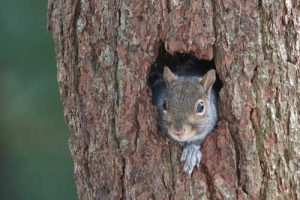 is a coastal city located south of Boston that is home to fascinating historic sites and miles of coastline. However, the enchanting city is also home to a variety of wildlife that often take shelter in local residences and businesses to find food and escape the elements. While these critters may seem harmless, they can cause extensive and costly damages to your property. Fortunately, the licensed professionals at Critter Control® of Quincy offer fast and effective wildlife removal, cleanup, prevention, and exclusion services for your Quincy home or business.
6 Signs of a Critter Infestation on Your Quincy, MA Property
As soon as signs of an infestation are detected, call the experts at Critter Control® of Quincy to inspect your property. Common signs to look out for include:
Gnawed wires, drywall, baseboards, and furniture
Grease marks and stains on your walls and floors
Squeaking, chirping, chattering, scurrying, or chewing noises
Droppings along floors and in the attic
Foul odors throughout the property
Shredded attic insulation
Common Pests in Quincy, MA
The wildlife removal experts at Critter Control® of Quincy are experienced and equipped to remove the following invasive pests from your Quincy, Massachusetts home or business.
Regardless of their species, wild animals are unpredictable. That is why it is important to keep a safe distance from invasive critters and rely on the wildlife removal professionals at Critter Control® of Quincy to safely remove them from your Quincy, MA, property.
Critter Control® of Quincy's Humane Wildlife Removal Methods
At Critter Control® of Quincy, we only use humane removal methods to evict unwanted critters from your property.  Our four-step CritterSafe® process includes:
We fully inspect your property to discover where the critters are nesting and how they entered.
All nuisance critters are safely removed using non-toxic and eco-friendly methods.
Any damage or contamination left by the critters is repaired and sanitized.
Entry points are sealed and prevention devices are installed to ensure the critters cannot return.
Expert Wildlife Removal Services in Quincy, MA
If your property in the Greater Boston area is overrun with invasive wildlife, then contact the professional animal removal experts at Critter Control® of Quincy. Whether you have an existing pest problem or want to prevent one from ever starting, you can count on us for safe and effective services. To schedule an inspection for your home or business, call us today at 617-975-0440.