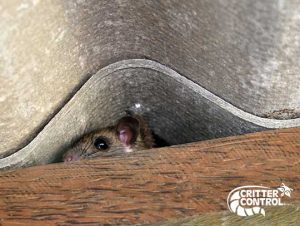 The presence of rodents in your Wellesley, MA home or business can be a significant threat to the health of your property, your budget, and your personal well-being. Rodents have large teeth that constantly need to be dulled down, causing them to chew through walls, wires, and insulation. They also scavenge for food, contaminate food sources, and spread disease.
If you suspect you have a rodent infestation on your Wellesley, MA property, Critter Control® of Boston is at your service with fast and effective rodent removal methods.
6 Common Wellesley Rodents
Rodents love to live in dark, quiet spaces, such as attics and crawlspaces. To access such interiors, they will burrow through cracks and crevices or underground into the foundation around your property. Here are some of the common rodent species that may be trying to get into your Wellesley property.
North American Deer Mouse
White-footed Deer Mouse
Brown Rat
Black Rat
Eastern Gray Squirrel
Southern Flying Squirrel
Signs of Invasive Rodents
Many do not notice a rodent infestation until it becomes severe. So, the faster you notice and respond to the signs of rodents, the easier the removal process will be. Common signs of a growing rodent infestation include:
Droppings in food packages, pantries, drawers, and along sinks and floorboards
A stale, ammonia-like smell coming from crawlspaces and attics
Greasy, stained holes in walls or near flooring
Nesting materials, such as shredded newspapers, insulation, or other materials
Our Safe Rodent Removal Process
The biggest danger of rodents in your home or business is the diseases they carry. Rodents can pass on hantavirus, leptospirosis or rat-bite fever from their droppings left around your property. While rodents normally avoid humans, they can scratch or bite if threatened. Therefore, if you think you have a rodent infestation, do not try to remove the critters yourself.
Instead of putting yourself at risk, call the professionals at Critter Control® of Boston. We've created a four-step process that efficiently and humanely removes nuisance wildlife. Our method includes:
Inspection – We thoroughly inspect your property and provide a complimentary estimate to deal with your infestation.
Removal – All nuisance wildlife is safely removed and relocated away from your Wellesley home or business.
Exclusion – Any entry points are sealed off to ensure the pest removal is permanent.
Restoration – Any damages caused by the rodents are restored and all areas are disinfected.
Professional Wellesley, MA Rodent Removal Services
Whether you have an existing rodent problem or want to prevent one from ever starting, you can count on the licensed and trained wildlife experts at Critter Control® of Boston for safe and effective pest control, prevention, and removal services. To schedule an inspection for your home or business and receive a free estimate for our reliable rodent removal services, call us today at 617-975-0440.