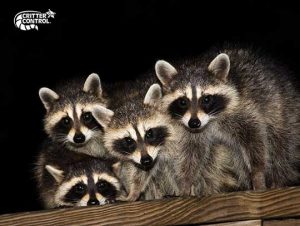 Raccoons are exceptionally sneaky critters that may find their way into your attic in search of food, water, and shelter. From scratching and squeals to smells and droppings, there are many signs that there may be one, or many, raccoons living above the ceiling of your residential home or commercial business. While raccoons may seem like harmless creatures, they can actually pose a great threat to your health and can leave lasting damage to your property if left unaddressed. Here are four steps to help you get nuisance raccoons out of your attic.
The Dangers of a DIY Raccoon Removal
Raccoons can get exceedingly aggressive if they feel cornered or threatened. It is vital that you do not attempt to handle the threat without experts present as a simple bite or scratch from the raccoon can spread infectious diseases such as:
Parvovirus
Rabies
Roundworm
Toxoplasmosis
Infectious canine hepatitis
Aside from personal health risks, raccoons can cause structural damage to your property and leave behind droppings, urine, trash, and dead livestock, that is why raccoon removal is best left to professionals. With the help of adept wildlife experts, your raccoon problem can be effectively resolved before the problem and the critters begin to pose a risk to yourself or others on your property.
4 Effective Steps to Permanently Get Raccoons Out of Your Attic
To permanently resolve raccoon infestations, the team at Critter Control® of Boston employs humane, CritterSafe® methods to remove all unwanted pests from your vicinity. Our methods to stop raccoons from taking over your property include:
Inspection – We thoroughly examine your attic and the interior and exterior of your property to determine the size of your raccoon infestation.
Relocation – We utilize one-way traps and humane treatments that are free of toxic chemicals to capture and safely remove all nuisance raccoons.
Restoration – We repair, clean, and decontaminate your attic and surrounding areas that were damaged by the raccoon infestation.
Prevention – We seal any existing entry points with covers, caps, and gates as well as perform consistent checkups to ensure that your property remains raccoon-free.
Professional Raccoon Removal in the Greater Boston Area
Critter Control® of Boston employs an equipped team of specialists and advanced methods to remove a variety of critters, including raccoons, and keep them from invading your property in the future. If your attic in the Greater Boston area has been infested by raccoons or other invasive wildlife, then depend on our professional animal removal experts to handle the issue.
To schedule an inspection for your Greater Boston area home or business, call Critter Control® of Boston today at 617-975-0440.