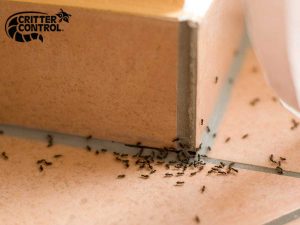 A pest control service is any professional method, technique, or application that aids in eliminating the presence of an unwanted pest infestation on your property. From strategic trapping to targeted spraying, each type of pest control service differs depending on the species of pest that has infiltrated your home or business. If you notice signs of a growing pest infestation around your Greater Boston area property, contact the reliable pest control service providers at Critter Control® of Boston to manage your pest problem before it becomes an out-of-control infestation.
6 Common Pests in the Greater Boston Area
The state of Massachusetts is home to many different kinds of pests that love to take up residence on Greater Boston area properties. Here are some of the most common pests serviced by our Critter Control® of Boston pest control professionals:
1. Ants
2. Bees
3. Roaches
4. Rodents
5. Spiders
6. Wasps
The Problem With DIY Pest Control Methods
While spotting an ant or two crawling near your floorboards may seem like a problem that you can resolve yourself, it is important to understand that the pests you spot around your home may not be representative of the full scale of the infestation. In fact, for every pest you see, there could be hundreds more in hiding.
This is why it is so important to not waste time buying pest removal sprays and traps from the store. While you're busy with ineffective half measures, pests can be multiplying, contaminating surfaces, and spreading dangerous diseases throughout your property. Instead, call the experienced and equipped pest control professionals at Critter Control® of Boston to take care of the issue for you.
Understanding Pest Control Services
While pest control services vary depending on who you call, there are a few standard procedures that effective pest control specialists take in order to ensure that your issue is taken care of properly. In fact, a full-service pest control company like Critter Control® of Boston will not only provide complete pest removal but will also offer damage repair and pest prevention.
With pest control services from Critter Control® of Boston, you can expect a thorough inspection of your property, a safe and humane removal service, and a full sanitization process. We also make sure to seal any entrances that the pests could have used to get into your home or ones that they might try to use in the future. This ensures that your property is reinforced and impenetrable to infiltration, giving you the peace of mind that you won't be dealing with another pest issue anytime soon.
Your
Local
Boston Area
Pest Control Service
Professionals
When you're in need of professional pest control services for your property in the Greater Boston area, Critter Control® of Boston is here to help. All of our pest control services are quick, safe, and effective. To schedule an inspection and receive a free estimate, please give us call today at 617-975-0440.